Glen Agar
Etobicoke Homes - Past Projects
Completed in 2020, Glen Agar features homes that are hidden gems of modern luxury living in a scenic natural setting. Located at the intersection of Kipling Avenue and Rathburn Road in Etobicoke, this newly constructed enclave of 53 single family homes on 30' lots offer three and four bedroom floor plans ranging from 3,100 to 4,100 square feet. Initially launching in July 2017, this community was attractive for families and professionals alike, with schools, entertainment, shopping, highway corridors and Toronto Pearson International Airport within close proximity. The community offered homes in modern and traditional elevations, creating a visually arresting streetscape.
Past Project Highlights
Etobicoke
Kipling Rd. & Rathburn Rd.
Active & Upcoming Communities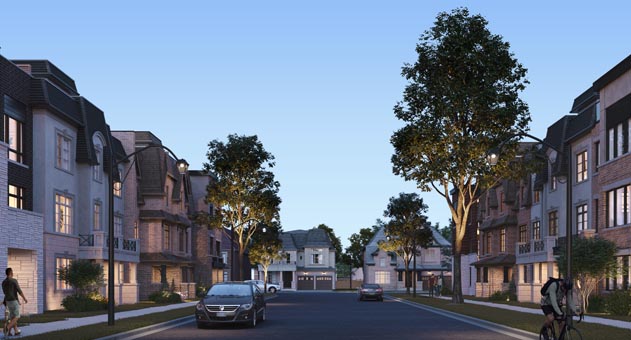 Union Village. New Homes in Unionville by Minto Communities
Unionville Homes for sale | Located just north of 16th Ave., Unionville
Westshore. New Homes in Etobicoke by Minto Communities
Etobicoke Homes for sale | Lake Shore Blvd. E. & Long Branch Ave., Etobicoke
Glen Agar homes were available in traditional and modern elevations. Both styles offered a meticulously designed, and visually cohesive exterior.
Traditional:
The traditional elevations at Glen Agar use time-honoured elements and intricate details to help blend into the existing established neighbourhood. These single family homes are influenced by Tudor and Georgian style architecture with varied roof lines and steep pitches which create a dramatic and interesting facade. Brick and natural-looking stone enhanced with precast detailing present a warm and welcoming exterior, while every home has flowing, open concept layouts featuring large gourmet kitchens with island counters, walk-in closets and more.
Modern:
The modern elevations at Glen Agar feature contemporary architecture with clean lines and vertical and horizontal elements, to create a fresh aesthetic. Use of brick and stone, metal panels, wood-looking metal siding and soffits create an eye-catching streetscape. Abundant natural light flows within these homes, through maximized windows, while family rooms are designed for luxurious living and entertaining. Spacious bedrooms and spa-inspired ensuites offer an exclusive and comfortable living environment, perfect for couples, families, and working professionals.
ENERGY STAR® Luxury Homes
The features that go into our homes are grounded in providing four key benefits to our customers – cost savings, comfort, a sense of community and healthy living. We believe that these guide our vision to create better places to live, work and play, one home and one relationship at a time.
Triple Pane, Low-E coated, argon filled ENERGY STAR® Zone 3 windows help maintain comfortable temperatures year-round while also provided superior outdoor noise mitigation.
Industry leading air-tightness through innovative AeroBarrier® technology. This technology uses a GREENGUARD® Gold Certified, low-VOC sealant distributed throughout the pressurized house to seal small gaps in the exterior of the home, resulting in a more comfortable and energy efficient home.
Electric Vehicle charging infrastructure includes an upgraded 200 amp electrical panel and empty conduit from the garage to electrical panel reduces the costs associated with installing an EV charger.
Drain Water Heat Recovery (DWHR) systems ensures that you can recover heat energy from the hot water used in your home.
On-demand hot water recirculation on the master ensuite reduces the amount of time to deliver hot water to the bathroom, thus reducing the amount of water wasted while waiting for a shower to warm up.
Integrated under counter waste station provided in kitchens allows for efficient sorting and management of household waste into 4 streams – organics, recycling, landfill waste and an extra bin for batteries or other use.
Whole-home, furnace-mounted and water-efficient humidifier creates a more comfortable home by controlling humidity levels especially in the dry winter months.
Multi-Zone HVAC systems were offered as an upgrade, with more than 65% of purchasers opting for this feature which significantly improves comfort and efficiency by only providing heating or cooling to areas of the home that need it, avoiding upper levels becoming too hot or lower levels being too cold.
Heat Recovery Ventilator (HRV) and Improved Circulation: This technology delivers fresh, filtered air to each room and circulates that fresh air throughout the home for improved air quality and comfort while saving you money.
Simple, convenient "all-off" lighting control switch located at your front door. One flick turns off all fixed lighting and some electrical plugs.
Third Party Verification
At Glen Agar, every Minto Communities home is ENERGY STAR® certified meaning a third-party organization inspected and tested every home to verify performance.