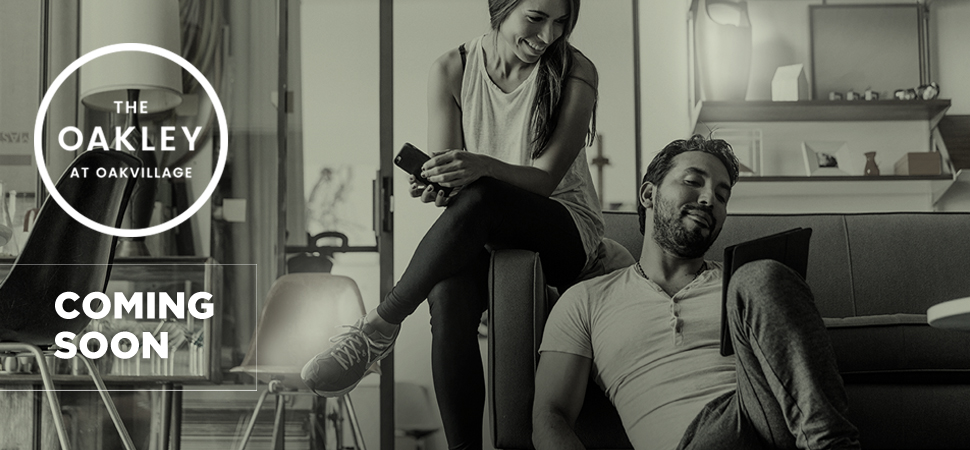 COMING SOON TO OAKVILLAGE: THE OAKLEY
New Condos in Oakville
Introducing The Oakley, the newest addition to our Oakvillage community. A condominuim located at Dundas and Trafalar in Oakville, The Oakley is nestled in nature and also steps to all of Oakville's great amenities. Now is your opportunity to join this outstanding master-planned community. Register today to receive the latest updates about The Oakley.
Welcome to Minto Oakvillage
Minto Oakvillage is located in the heart of extensive greenspace, ideal for sport and leisure pursuits. Where family amenities like schools, parks and shopping are mere minutes away. Where trails and scenic greenspace invite you to come out and play. Nature is an integral part of Minto Oakvillage. Whether you are enjoying the beautiful scenery or going for a jog through the scenic woodlot, you are surrounded by nature's beauty in all directions. Designed with a vision of healthy, active living, a 1.5 km scenic trail has thoughtfully been woven throughout the community and is surrounded by Oakville's extensive 300 km trail system, connecting residents with the great outdoors just steps from their front door. Connected to a plethora of multi-use, major and minor trails throughout Oakville, these nature trails stitch the town together into one vibrant greenspace. From Sixteen Mile Creek Trail, the Waterfront Trail or the Crosstown Trail, at Minto Oakvillage, you'll discover that all trails do indeed lead to home.
Our first successful phase at Oakvillage is made up of 243 new townhomes in Oakville featuring modern and west coast inspired urban townhome designs. Our first phase of our townhomes for sale were sold out during preconstruction.
Construction is now complete on our Urban townhomes in Oakville at Dundas and Trafalgar. Learn more about the Oakvillage community in our Community page.