Caledonia Towns on the Park
Toronto Townhomes - Past Projects
Completed in 2013, Caledonia Towns on the Park is a spectacular townhome development located at the corner of St. Claire West and Caledonia Park Road in Toronto's Davenport Village neighbourhood. The community features 50 townhomes with two and three-bedroom designs. Caledonia Towns on the Park, a LEED® Certified project, received Gold level certification.
LEED® Certified to the Gold level
Past Project Highlights
Toronto
St Clair Ave. W. at Caledonia Park Rd.
Active & Upcoming Communities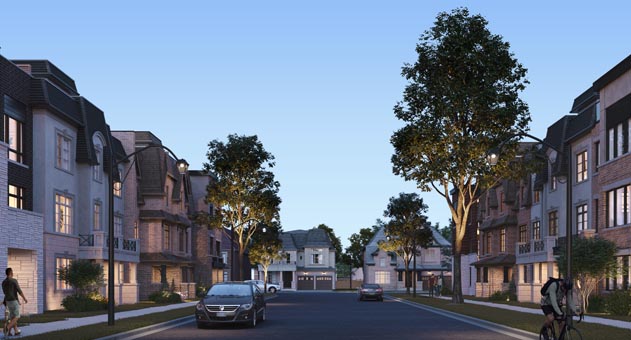 Union Village. New Homes in Unionville by Minto Communities
Unionville Homes for sale | Located just north of 16th Ave., Unionville
Westshore. New Homes in Etobicoke by Minto Communities
Etobicoke Homes for sale | Lake Shore Blvd. E. & Long Branch Ave., Etobicoke
LEED® Gold Certified Townhome Community
The features that go into our homes are grounded in providing four key benefits to our customers – cost savings, comfort, a sense of community and healthy living. We believe that these guide our vision to create better places to live, work and play, one home and one relationship at a time.
Drain Water Heat Recovery (DWHR) systems ensures that you can recover heat energy from the hot water used in your home.
Energy and water-efficient features - ; such as high performing, low-flow plumbing fixtures, and ENERGY STAR® appliances — help homeowners conserve resources and lower monthly costs.
Heat Recovery Ventilator (HRV) and Improved Circulation: This technology delivers fresh, filtered air to each room and circulates that fresh air throughout the home for improved air quality and comfort while saving you money.

Simple, convenient "all-off" lighting control switch located at your front door. One flick turns off all fixed lighting and some electrical plugs.

ENERGY STAR® appliances standard in every suite. ENERGY STAR® qualified products use 30% less energy to do the same job as non-ENERGY STAR® qualified products.
Double-pane Low-E argon windows are designed to minimize the effects of the outside climate on the interior temperature.
Third Party Verification
Caledonia Towns on the Park received LEED® Canada Homes Gold Certification in 2013.