Construction Is Under way on the Fitzgibbon Model Home
Currently under construction, Glen Agar's first model home is set to be completed in early 2019. Having already completed mechanicals, roof ply and shingles, the construction team is currently in the back-framing stage and will begin electrical on the Fitzgibbon model.
This stunning model home will offer future residents the chance to preview a piece of the luxurious and contemporary community that they will soon call home. Over 3,500 sq. ft., with three bedrooms, as well as 3.5 bathrooms, the Fitzgibbon offers more than enough space for your entire family.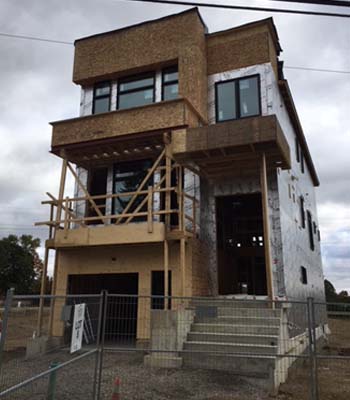 The home's ground floor features a spacious great room, powder room and mudroom, the perfect place to greet guests and neatly store outer wear. The second floor offers a family room with a beautiful gas fireplace, a bright and airy kitchen with a spacious breakfast bar and large pantry, as well as a powder room and an elegant dining room, with a beautiful coffered ceiling. The home's third floor has three bedrooms, all with their own ensuite bathrooms, and a spacious laundry room offering the upmost convenience.
Stay up-to-date on the construction of the Fitzgibbon model home on our Instagram story highlights.
Learn more about our new homes for sale in Etobicoke on our floorplans page and remember to like Minto Glen Agar on Facebook and follow us on Instagram.