Design Centre
Finalizing your personalized selections
After you've purchased a home with Minto Communities, you'll have one-on-one appointment(s) with your Design Centre Consultant who will help you personalize your new home with a range of options, additional investments and high-quality finishes — expertly selected so you're always on trend!
One of the exciting things about buying a brand new home is the opportunity to personalize some of the finishes and if you choose, invest in additional features available for purchase from a pre-set menu of options.
Minto helps equip you by offering a number of resources to orient you to the process and options so you feel ready and prepared to make decisions when you arrive at your Design Centre appointments.
One of the best ways you can prepare for your design appointment(s) is to browse the optional selections available for your home prior to meeting your Design Consultant.
We also recommend you virtually tour our model homes to help inspire you in terms of look and feel. Browsing these resources will allow you to attend your design appointments fully prepared to finalize decisions that will help turn your house into a home that truly reflects you.
The timing and sequence of your appointment(s) is driven by the construction schedule and the occupancy/closing date for your new home. When the time is right, the Design Centre will reach out and work with you to schedule your virtual and in-person Design appointments. These one-on-one meetings with your Design Consultant are the best time to fully understand the value of the included features in your home, ask about additional investment options, inquire about pricing and receive expert advice about styles and finishes that add value and suit your lifestyle.
At the conclusion of your appointment(s), you will be asked to finalize all decisions regarding your home's selections. If you are making any additional investments, we ask that you bring your selected method of payment to these appointments. A payment is necessary at the time you commit to the additional investments you have selected so that we can order materials and finalize the schedule so we can deliver your new home just as you have designed it.
The availability of some design selections and additional investments depends on the type of home purchased and your occupancy/ closing date. It is important to be aware of which selections are available for you to consider. The selections you will need to make can include the following:
Structural/framing selections
The Construction team requires your finalized selections for your home prior to construction and uses that information to plan your specific home's schedule, coordinate deliveries and Trade partners, and may even need some of your selections finalized to obtain a building permit.
Structural selections are completed at the Sales Centre shortly after you purchase and include items such as floor plan changes and additional basement windows for Single Family Homes, and finished basement bathrooms for Executive Townhomes.
Framing selections are made through a virtual appointment with your Design Centre Consultant, and include items such as kitchen and bathroom layouts, electrical changes, lighting, plumbing and mechanical related options.
Finishing selections
Finishing selections relate to decorative details and finishes and often play a leading role in personalizing your home. Finishing selections may include flooring, cabinetry, countertop, interior door styles, trim selection and much more.
Consider your appliance openings
During your Design appointment(s), you will have an option to change the size of your appliance openings in your kitchen. If you would like to accommodate a larger/wider fridge, a gas stove, and so on, your Design appointment(s) is the time to make these changes. It is important to understand that appliances must comply with all building and electrical code requirements, and as such, some restrictions may apply to what options can be selected. We recommend browsing for appliances prior to your first design appointment, as changes to these openings cannot be accommodated once your selections are finalized.
Key Information About Personalizing Your Home
What comes with my new home and are there any options for me to select from?
The Features and Finishes section in your Agreement of Purchase and Sale outlines all items included in your new home. At the Minto Communities Design Centre, your Design Consultant will provide assistance with personalizing your home by guiding you through the available selections for your included finishes. If you choose, your Design Consultant will also help you explore and select from our menu of additional investments that are available for purchase.
How can I prepare for my Design Centre appointment(s)?
We recommend gathering inspiration from a number of sources including magazines, websites, and visiting our Minto model homes (in-person or virtually). This will help to define your own personal colour and style preference and give you some ideas to share with your Design Consultant.
Prior to your Design Centre appointments, you will receive an information package outlining the appointment process, payment options, and a link to a Wish List allowing you to review available options and pricing. You will be able to see photos and pricing for these options allowing you to prepare and budget accordingly for your appointment. Please note pricing is approximate and may vary based on selections and availability. Option availability and final pricing will be confirmed by your Design Centre Consultant during your appointment.
Once your Wish List is complete, your Design Centre Consultant will be able to access it prior to your first meeting, allowing for a more collaborative and productive appointment. It is a great tool to familiarize yourself with our options and pricing, allowing you to make the most of your time at the Design Centre.
When you meet with your Design Consultant, it's also a good idea to share some details about your lifestyle, such as if you have pets, children, allergies, if you like to entertain and so on, so they can make recommendations that best suit you and your household.
How many one-on-one appointments will I have with my Design Consultant?
Depending on the type of home purchased, you could have between one and four appointments. In order to keep the meeting focused and ensure you have the time to fully review presented options and absorb any financial considerations, we kindly ask that only the homeowners on title attend. We recommend a sitter be arranged for any small children during your appointments as our focus will be on making important decisions for your home and in our experience, it is not much fun for the little ones. Your Design Consultant's office can comfortably accommodate 2 to 3 adults.
Why do I need to finalize my selections so early in the process?
Many homeowners ask us why they are being asked to choose and finalize selections so far in advance of construction starting. Once you have completed your appointments at the Design Centre there is a lot of work done in the background to prepare for building your home in accordance with your personalized selections. The finalization of your selection package sets the first stages of construction into motion where we obtain building permits, order all necessary materials and schedule our trade partners
Having your selections finalized in advance of construction allows us to coordinate the delivery of materials and trade schedule to align with completion for your scheduled closing.
Frequently Asked Questions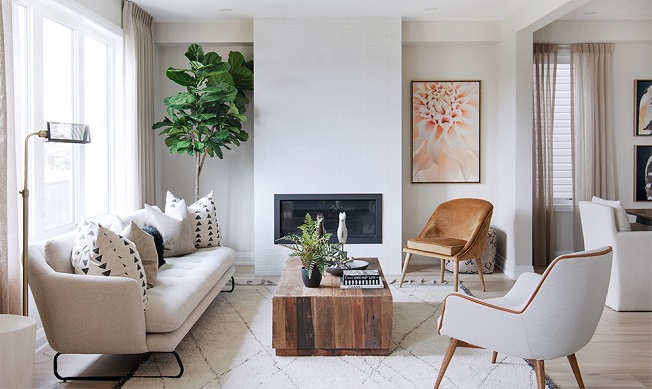 We're here to help
Just Tell us How
Your Design Centre Consultant can provide any answers or connect you with the right person to address any questions - during regular business hours. The Design Centre is currently closed to the public.
613 782 2935 ext. 0 (Voicemail only while the Design Centre is closed to the public)