Putting you at the forefront of every decision
For over 65 years Minto Communities has been building new homes based on our guiding principles of putting homeowners first, ensuring that they can have the best quality of life possible. From thoughtfully-designed spaces and vibrant communities to a dedication to quality service and construction — we want you to live, grow and thrive with us.
Inspiring Homes
Homes designed and built to be loved for a lifetime.
You should love your home. That's why we're constantly evolving our designs to meet the ever-changing tastes, styles and needs of today's family, while carefully integrating homeowner feedback so we can continue building homes that families need.
Endless design possibilities
Our experienced Design Centre team will bring your ideas to life and help you make your house a home by working with you to choose layouts suited to your lifestyle and interior finishes that reflect your tastes.
A selection of eye-catching elevations and colour packages means you get to choose the right look for your home's exterior that will stand the test of time.
Putting homeowners first
The moment you purchase a Minto home, you are considered one of our valued Homeowners. Our motivation is to create dynamic spaces that you'll love to be at home in. From the gorgeous exterior options to beautiful community streetscapes, curb appeal is undeniable. Discover our process and the difference over 65 years of home building experience makes.
Vibrant Communities
Designed for life
We believe that a community is more than a place to live — it's a place to grow and thrive. And, after creating many of Ottawa's most beloved neighbourhoods, we understand what families need for their overall health and wellbeing, like social connections, outdoor enjoyment, access to amenities, and nearby schools.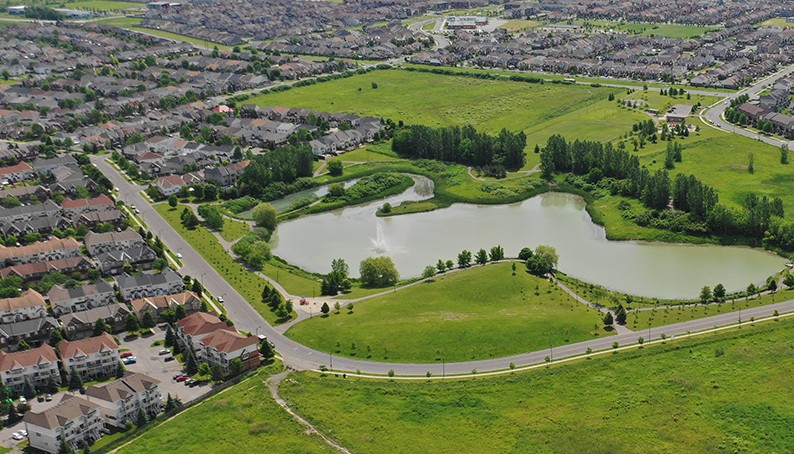 Master-planned for you
Every detail in our dozens of communities — both past and present — across Ottawa have been carefully master-planned to ensure you have convenient access to what you need most, from proximity to schools and parks to easy access to amenities and shopping.
Beautiful spaces to live and play
We believe that parks are essential to the wellbeing of a community, which is why we work closely with the City of Ottawa to design ours to include play structures, sports fields, and green gathering spaces so your neighbourhood is as functional as it is beautiful.

A Trusted Partner
Growing together
After years of building homes, communities and trust in several cities in Canada and the U.S., our dedication to residents and their wellbeing has remained constant. We believe that our responsibility to community extends way beyond those we build and is an integral part of who we are, and what we stand for.
Building possibilities since 2001
Since 2001, we have been a proud supporter of the Children's Hospital of Eastern Ontario (CHEO) by building and designing the grand prize Minto Dream Home for the CHEO Dream of a Lifetime Lottery. Our partnership with CHEO is an important part of our commitment to community, while constantly striving to build strong, healthy communities for the people who live in them.
The Orléans Health Hub
The Minto Group is proud to be an official Building Partner of the Orléans Health Hub, having donated $250,000 to support the development of the Mental Health and Wellness program. This partnership, commemorated with a mural, is our way of ensuring more residents can get the support they need.
Minto Communities Pride
2019 One of Canada's
Greenest Employers
for 2019
GOHBA Builder of the Year
2022, 2021, 2019, 2016
7 GOHBA Design Awards
For the 2019, 2020 & 2021 Minto Dream Homes
2019 One of Canada's
Greenest Employers
for 2019
GOHBA Builder of the Year
2021, 2019, 2016
3 Design Awards
For the Minto Dream Home 2019 GOHBA
Connected to peace of mind
You deserve peace of mind, which is why new Minto Communities homes come equipped with the essential components of a Smarter Home, allowing you to control your home's comfort and monitor performance through a simple, intuitive mobile app.
These homeowners found their perfect Minto Communities home
"We would purchase a Minto home again, we had nothing but amazing interactions with the Minto staff and it's that kind of care that makes you feel like you're part of a family. It was a absolute amazing experience"
– Farrah and Brandon, Quinn's Pointe Homeowners
"I definitely recommend Minto to family or friends for many reasons; for the quality of the workmanship, the seamless process and to feel like you're important to them... When you put in a lot of money into something like this you want to make sure you're satisfied and you can tell that they understand that. They want to make sure you're satisfied as well."
– Terry & Lyla, Mahogany Homeowners
"I really enjoyed the sales process! I had Harry Choi as my sales rep and he was fantastic. He walked me through the whole process well. He explained everything to me and made sure I was comfortable because it was my first time buying a property of any sort."
– Komal, Infusion Terrace Homeowner
"I heard about Minto from a friend and Minto is a really good and trustworthy company... We think the houses of Minto are very good quality and Kanata is a very great area for the children because they have very good quality schools."
– Xue & Sheng, Arcadia Homeowners
"Our favourite part was designing the home. Our design experience with Minto was great, the lady who assisted us had the same taste as us, so it was pretty easy to design our home. She made it fun!"
– Victoria & Stephen, Avalon Encore Homeowners
"Minto helped us a lot with the design. They took the worry of buying a new home away from us and it was great to move in to it all finished and ready to go. We'd buy another one."
– Wayne & Lynne, Avalon Encore Homeowners
Previous
Next