Homeowner
Pre Move-In
Features & Finishes


Interior Finishes
Interior Finishes
It's important to understand the many features and finishes in your home, their purpose and how best to care for them.
Quartz countertops
Quartz countertops are an engineered surface made from one of nature's hardest minerals. Quartz is combined with numerous polymers and pigments to create a natural stone look with durability that is far superior to any marble or granite surface. Quartz's hard, nonporous surface typically makes it easy to clean. In most cases, a little dish soap (non-coloured, dye-free soap) and water is all you need to maintain its lustre.
Granite countertops
Granite and marble are natural stone products, highly regarded for their beauty. Being a product of nature, no two pieces are alike and can vary in tone, shade, veining, contain fissures and indents that all can vary from piece to piece. Impact resistance also varies, and marble particularly can be chipped or cracked easily if misused. Marble and granite are porous stone and may stain, dull and/or scratch upon abrasive contact.
Do not use any harsh or abrasive cleaning products such as Windex®, vinegar, lemon, lime, or anything with ammonia or bleach to clean marble or granite. A little non-coloured (no dye) dish soap and water is the best way to clean this material. You can also refer to the manufacturer's recommendations for the best practices to take care of this beautiful feature of your home.
Laminate cabinetry
All kitchen and bathroom cabinetry is composed of dense fibreboard with a printed laminate surface. Cabinetry can be easily cleaned with a damp cloth and mild detergent or multi-purpose cleaner. Kitchen utensils can scratch cabinetry surfaces easily, but scratches are also easy to repair with a colour touch up kit available from most hardware stores.
Painted/lacquer cabinetry (upgrade)
Painted/lacquer finish cabinetry is a premium finish that requires extra care with regular use. It is important not to use cleaning solutions or products that could damage or dull the painted finish. Use a damp paper towel with diluted vinegar or all-purpose cleaner to clean the surface, and quickly dry with paper towel. Chipped or scratched painted cabinetry is extremely difficult to repair.
Wall and ceiling paint
All interior paints are low VOC (Volatile Organic Compound) latex paints, selected for their high quality and health benefits. Walls that become dirty can be gently washed with a little bit of mild detergent and water, but too much scrubbing will result in the pain being removed.
Finishing and trim carpentry
Interior doors, door casings, and baseboards are coated with semi-gloss paint, making marks and scuffs easy to clean with a damp cloth and mild detergent.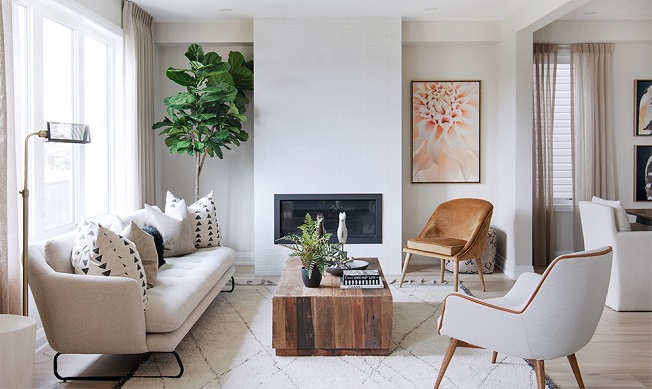 We're here to help
Just Tell us How

Your Customer Experience Coordinator can provide any answers or connect you with the right person to address any questions - during regular business hours.