How to Buy a New Home
Articles
How to Buy a New Home


Articles
Getting Started: How to Buy a Home
Downtown condo or a home in the suburbs? Upgrade to quartz countertops or opt for that high-end ensuite? And what the heck is interim occupancy, anyway?
Buying a new home is exhilarating but it's also complicated. Dozens of decisions need to be made before and after you sign on the dotted line. That's why we've put together this guide to buying a new home to help you navigate the process, pick the right home in the right neighbourhood, and have fun doing it.
So, let's get started.
Why do you want to own a home?
Maybe you're tired of writing cheques to your landlord. Maybe you've seen how your parents' home has become a valuable asset. Maybe you just want a place you and your family can call your own, an oasis in your busy lives. There's no one perfect reason to own a home, but you should spend time thinking about why you want one. Doing that will help you decide what type of home will work for you.
First things first
Before doing anything else, get pre-approved for a mortgage. That way, you'll know exactly how much you can spend and not risk disappointment when you discover the home of your dreams is beyond your means. You'll need a letter from your lender showing pre-approval before you can purchase a new home.
Shopping for a new home may be simpler than you think
It's true. You pick your community, walk into the sales centre, and there you find the full range of available homes for sale, prices, site plans, amenities, all clearly laid out and easy to understand. Got questions? A sales representative who knows the homes and community inside and out will answer them. Unlike the resale market, there's no traipsing from one house to the next, no bidding wars or negotiating, no big letdown when someone else snaps up that special home. What could be simpler?
A new home is not a custom home
While options such as alternative layouts and optional finishes help you personalize your home, one you buy from a builder like Minto Communities — often called a production home — is not a custom home. While there are usually a number of selections and opportunities to personalize a new home, such as selecting colours, finishes and in some cases, floor plan/layout options, custom changes that you design are typically not available. A production builder offers a portfolio of floor plans and house styles to choose from in a master-planned community that's affordably priced thanks to economies of scale. A custom home, by contrast, is designed and built with a single homeowner in mind, usually on a special lot, and is considerably more expensive than a production home.
Researching builders and communities
Before you visit the sales centre, you need to research builders and communities.
Has the builder, like Minto Communities, been creating not just new homes but new home communities for decades? Is the builder locally based, with a clear commitment to making Ottawa a better place?
Builder websites and even social media — provided you seek out informed opinion — can help answer these questions. Organizations such as Tarion, which administers Ontario's new home warranty plan, and the Better Business Bureau, are also helpful in assessing builders.
And what are the various communities like? Is there enough green space for you? What about access to bike and hiking paths? Schools for your kids? How close are shopping, medical and other services, public transit, and major highways? You can't hope to know everything, but a good handle on the builder and community at the outset saves you time and effort later. In fact, it's a good idea to visit a builder's previous communities to see how they mature and how well both the homes and communities hold up over time.
The role of the sales representative
A good sales representative will take the time to understand your needs and help you define what type of home you not only want but need.
The sales representative should ask a lot of questions to determine whether he or she has the product and community you seek — if not now, then maybe in a few months time when more homes or a new project becomes available.
Be open with your representative about your expectations, your hesitations, your dreams: he or she knows you're investing in something that will serve you for years to come and your representative will be happy to put in the time to satisfy you.
You won't need a Realtor if you buy from a new home builder – the sales representative provides this service. However, if you are already working with a Realtor they should join you for your first visit to the sales centre.
Included features and additional investments
When you buy a resale home, what you see is what you get. Buying a new Minto Communities home, on the other hand, means beautiful included features that are included in the price of the home, but also a range of optional selections for purchase. From flooring to paint colour to cabinetry to backsplashes, and, in some cases, changes to bathroom and kitchen layouts. You pay for these, naturally, but they are your chance to infuse your new home with more of your own personality and design preferences, or invest in finishes that will enhance your homes' future resale value.
You should look at your additional investment options when you are house shopping, but the time to make your choices is during your appointments at the design centre after you've bought your home, a process we describe in the Minto Communities Homeowner Journey Guide.
Touring our model homes, which include both included features and additional investments, will help you choose which additional investments you'd like. Just be careful about falling in love with and wanting to duplicate a model home: it may be outfitted with all kinds of additional investments that may put it beyond your current budget.
Staying rational
Buying a new home is an emotional journey full of hopes, excitement and even the occasional small disappointment, usually tied to your budget. However, this is likely the biggest investment you will make.
Your sales representative will help with practical questions — for example, "Where do your friends and family usually gather? If it's the kitchen, maybe you need a big one." — and by educating you on bus routes, proximity to recreation facilities, and the like.
Checklists of what you want in a home, like the one available at Canada Mortgage and Housing Corporation, are invaluable in helping you make reasoned decisions when evaluating new homes for sale in Ottawa.
Thinking long term is also essential: Do you plan to have children? Are ageing relatives likely to move in at some point? Do you think you'll want to eventually move to a larger house or is this your "forever" home?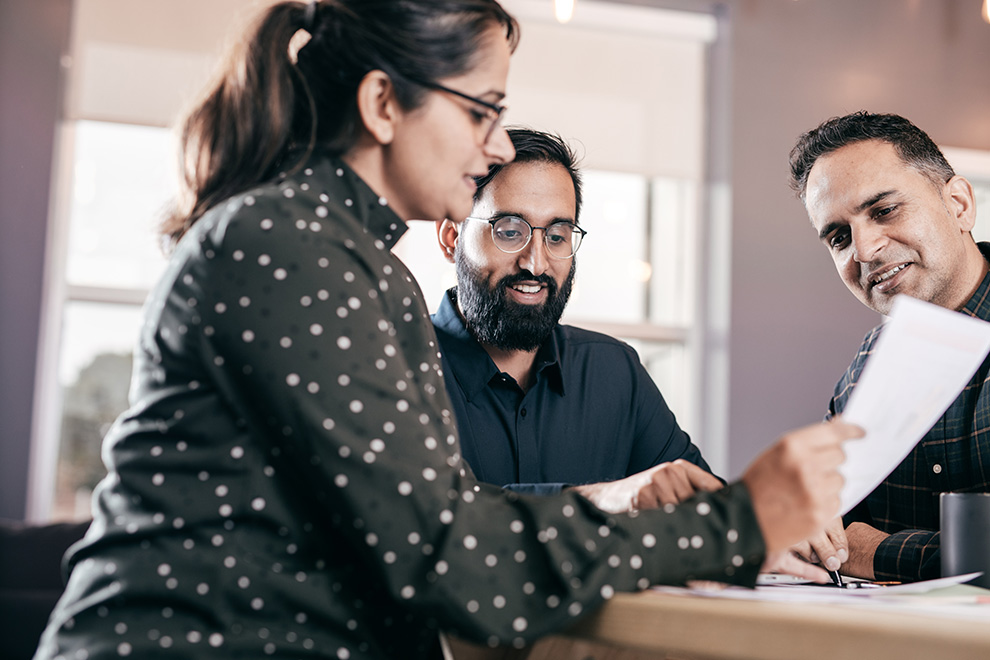 More on finances
When calculating the cost of buying your home, don't forget about additional expenses that are payable when you buy, including lawyer's fees (yes, you need a lawyer when buying a new home), land transfer tax (if applicable), and the like. Your sales representative can fill you in on these costs.
You'll also need to make a deposit when you buy your home. It is usually calculated as either a percentage of the purchase price or a flat fee and is payable with post-dated cheques. You usually have the option of applying the deposit toward your down payment.
Last but not least, consider other everyday costs that you currently incur, such as electricity, heating, water, property and school taxes. All these take money, and your lender will include them when calculating how much you can borrow.
What else do I need to know about buying a home?
Although there are steps that are common to all buyers — arranging financing, visiting sales centres, settling on design choices — purchasing a home is a very individual journey. Some buyers make their decisions relatively quickly, others take longer. Some buyers like to bring in family and friends to advise them, others don't. Whatever direction your journey takes, we are here to offer our experience, knowledge and commitment to help you reach the destination you seek.
Resources
Here are a few resources to help you better understand affordability and financing a new home.