Site Plan - Mahogany, Manotick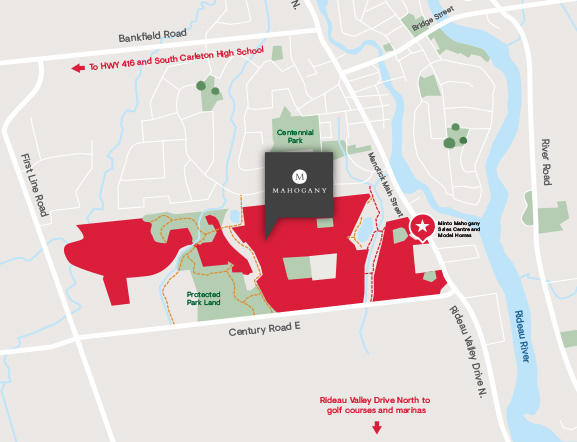 Mahogany is an established neighbourhood, and is home to 200 families. It's full of wonderful community features ready to enjoy, like Major W. Ross Chamberlain Park, Mahogany Park, and Manotick Walk. Phase One is complete and Phase Two of Mahogany - now on sale - has been master-planned to bring two new parks and two ponds, kilometres of trails for running, snowshoeing, or family strolls, and over 50 acres of protected natural parkland to the community.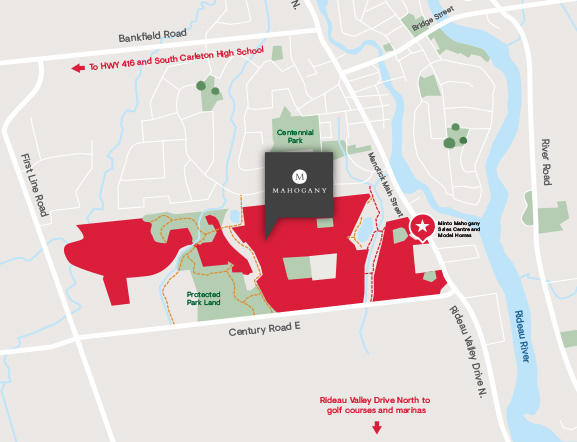 Mahogany Site Plan
With a unique collection of homes and lot sizes, including our new Estate Lots, there's something for everyone in Mahogany, Manotick.
There's a natural balance
in Mahogany, Manotick
Mahogany was created with a number of beautiful parks and green spaces, making use of the gentle hills and water features of Manotick. Unique elements referencing the history of Manotick add to this community's charm — like the masonry pattern that matches Watson's Mill. A large mature maple tree greets you as you enter, and historic trees — including the endangered Butternut species — have been carefully preserved and protected within the community. We work to come up with a plan that provides access to the park without having a negative impact on the natural features of Mahogany.
CONTACT US
Mahogany Sales Centre
108 Moretto Court
Manotick, ON, K4M 0E9
Hours of Operation
Monday: 12pm to 7pm
Tuesday & Wednesday: 11am to 7pm
Thursday & Friday: Closed
Weekends & Holidays: 11am to 5pm
Sales Centre and Model Homes are open with safety measures in place.
Click here to tour our Model Homes virtually online.
Contact Mahogany