Site Plan - Quinn's Pointe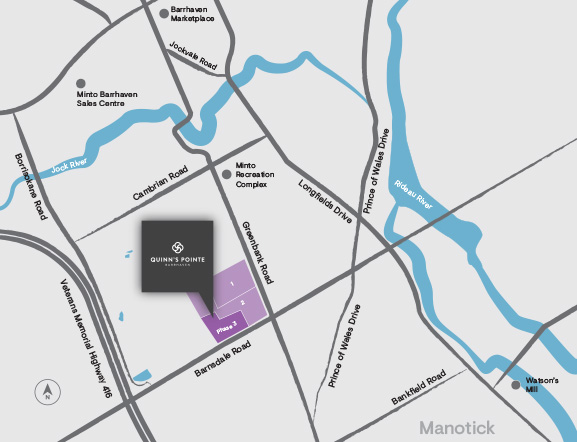 Get ready to join your neighbours in Quinn's Pointe, and enjoy a family-focused community and a connection to the great outdoors right at your doorstep. New Single Family Home and Townhomes, plus new designs, are joining the established community bringing you close parks, ponds, the network of walking paths, and easy access to the surrounding retail, dining, and recreational amenities.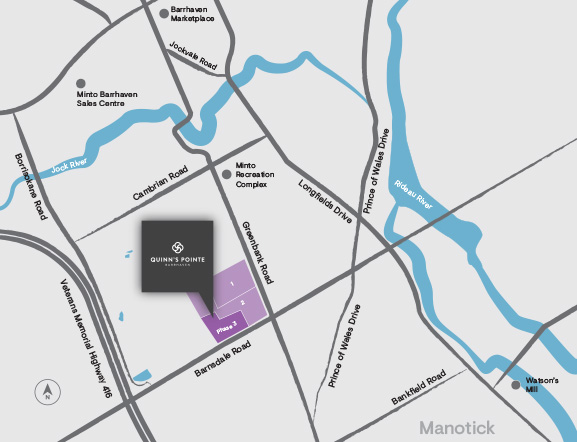 Quinn's Pointe Site Plans
Quinn's Pointe Site Plan
Single Family Homes and Townhomes for sale. Find your new home in Barrhaven South.
Quinn's Pointe Amenities Map
Find the amenities you need in Barrhaven, all within a stone's throw from Quinn's Pointe.
A park that is uniquely Quinn's Pointe
You'll know you're in Quinn's Pointe in Barrhaven when you step into the park. The Quinn's Pointe logo has been incorporated into the park for a unique sense of community. These elements connect the park from the entrance feature to the bike racks to benches, and more.
The natural land elevation was maintained to create a dynamic park with a tobogganing hill. There are plenty of recreational elements to the Quinn's Pointe park including, play structures, a tennis court, gaming tables — for chess and checkers — and shade shelters and a splash pad for the summer months. There is something for all ages!
CONTACT US
Quinn's Pointe Sales Centre
4005 Strandherd Drive
Nepean, ON
K2J 6E1
Hours of Operation
Monday - Thursday: 12pm to 8pm
Friday: 12pm to 6pm
Weekends & Holidays: 11am to 6pm
Model Homes in Barrhaven are available to tour by appointment. Please contact the Barrhaven Sales Centre to book your viewing.
Click here to view what model homes are available to tour in Barrhaven.
Contact Quinn's Pointe