How to Buy a New Home
Articles
How to Buy a New Home


Articles
Why buy a Minto Communities home?
Not all Ottawa home builders are created equal and it's important to understand the differences between them. After all, choosing the right builder can be the key to a positive home-buying experience.
At Minto Communities, we pride ourselves on our commitment: to you and your home, to our new home communities, to our city, to our planet and to ourselves. Here are 7 reasons why:
Beautiful homes
As a big builder in Ottawa, we have the advantage of offering a wide variety of housing options and floor plans to choose from, ensuring a layout, size and style that fits you and your family. Designed for today's families, our new homes are immensely livable, with spaces that are efficient, flexible, and functional. Our quality craftsmanship is recognized industry-wide, but more importantly, it's recognized by our customers when they step into their new beautifully built and superbly designed Minto Communities home.
Welcoming communities
When it comes to your home, it's not just about what's inside your four walls. Living in a connected community — whether that means a suburb or a high-rise building — with real walkability, plenty of green space, parks, recreation and amenities offers more ways to meet with family and neighbours and promotes a sense of belonging.
At Minto Communities, we don't only build your new home, we take pride in designing and building your new community. That means everything from where the streets will go to how lots will be serviced with utilities, green space, the layout of lots, what types of homes will go where, and allocation for schools and commercial space. Will it have good traffic flow for everyone from pedestrians to cyclists to cars and public transportation? Does it encourage community connection through engaging streetscapes, outdoor living spaces and public areas? Our decades of experience developing master-planned communities and new housing developments in Ottawa focuses on all of these points and more.
Sustainability
Minto Communities has long been a leader in building sustainably. And while we have been showered with many awards acknowledging our effort, we believe our success is measured by the health and vibrancy of the lives we touch and the environments we create. From green building to community building, from quality living to responsible investing, our commitment to people and the planet is an important part of what we do. It's one of the things we're most proud of.
For us, sustainability isn't just about being environmentally conscious. It's about the actions we take to invest in building a sustainable future by consuming fewer natural resources, minimizing waste and reducing greenhouse gas emissions, while providing customers with modern spaces to live, work and play in. It's our priority today — and it will continue to be in the future.
For homeowners, our commitment to energy efficiency and responsible building is reflected in the features included with our homes. From your home's mechanical systems, to the building envelope and third-party auditing of the home's performance, energy efficiency is key. For you, that means a home that is more comfortable, with lower utility bills, and a smaller ecological footprint. It also means having a healthy home environment, too. For instance, we use construction materials that minimize off-gassing, like low-VOC paints and Green Label Plus carpets for better indoor air quality.
Healthy living
A further commitment is to human sustainability, where both homes and communities are designed with a healthy lifestyle focus. That means designing new home communities that give priority to healthy lifestyle amenities and how we reach them; it means designing interior spaces that promote mindful eating and social time; it means giving consideration to the relationship between indoor and outdoor environments and our connection to nature. As a large Ottawa home builder who creates master-planned communities, Minto Communities is well-positioned to embrace this larger focus on lifestyle, emphasizing health, comfort and the connection to nature.
To support a healthy lifestyle, we promote ways to live greener, healthier, smarter, brighter and together.
Our roots in the city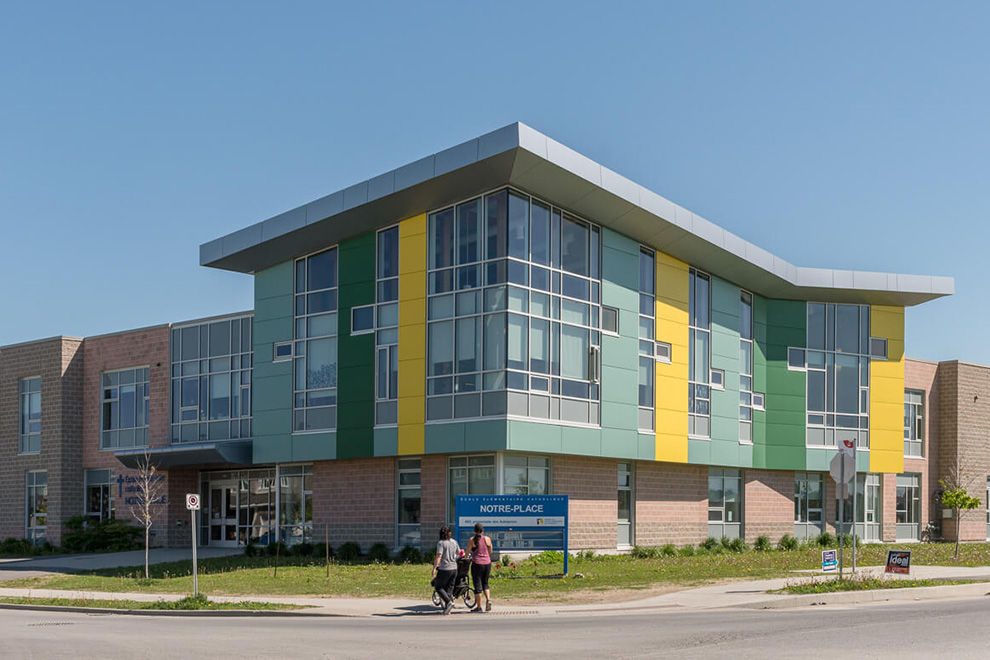 Minto Communities is an original builder in Ottawa. We began in the city more than six decades ago, growing as Ottawa grew, developing most of its desirable neighbourhoods, learning as we went and constantly improving on what we've done well over the years. And while we've expanded to other cities, we remain an Ottawa-based, family-owned company with strong values and a commitment to our home town.
Our focus on innovation means constantly looking for better ways to do things than have been done in the past. It requires never resting on our laurels, always imagining the world that could be, and jumping at opportunities to make things better for our customers and communities.
As a mature builder with a deep and thorough understanding of the Ottawa market, we have developed a strong reputation for quality, reliability and creating homes that stand the test of time.
Affordability
Because we're well-established, we can bring you homes that are both high quality and affordable. Our list of included features and finishes is extensive, from nine-foot main-floor ceilings to gourmet kitchen styles, architecturally attractive exteriors and a wide selection of design centre choices to personalize your home to your taste. We can do this through economies of scale – because no builder has built more homes in Ottawa than Minto – our relationships with trades, consultants and suppliers are extensive and the benefit of this volume can be passed along to you in terms of affordable new home prices.
Customer service
We're committed to superior customer service to make your experience with Minto Communities a positive one. Here's how:
Our helpful Homeowner Journey Map and Homeowner Journey Guide help you to know what to expect as your home is being built.
There are regular points through the home-building process where we connect with you for progress updates, including your design appointments, Frame Walk, your Minto Communities Essentials Homeowner Event (where you'll be introduced to key details about your home and community), Pre-Delivery Orientation and more.
Once you move in, our Warranty Team is your dedicated service personnel to deal with any warranty issues. While we strive to create a home for you that is free of defects, the nature of building a home outdoors in an unpredictable climate makes that impossible. That's why we have a dedicated team to address any matters quickly and efficiently. And if you have any home-care questions, our team is here to help.
Our commitment to our clients doesn't end when you move into your new home. There may be warranty issues to deal with; we're most likely still building in your neighbourhood and need to minimize the construction impact on new homeowners; and we are always striving to serve you better, which is why we encourage you to fill out our third-party customer service survey.
We thank you for considering Minto Communities. We would be honoured to add you to the list of happy homeowners who live in one of our many Minto Communities new home communities. We believe in building better places to live, work and play, one home and one relationship at a time: there's a Minto Communities that's made for you.