Reliving the Dream: A Look Back at Past Minto Dream Homes
Building the Minto Dream Home for the CHEO Dream of a Lifetime Lottery is just that: a dream! It's our chance to rally the community, give back to the CHEO Foundation and support families who rely on the care CHEO provides. It also offers an opportunity to experiment with new design elements and innovative technology. For instance, the eccentric interior embraced in 2020's Bohemian or the Net Zero components included in last year's Caraway and 2019's Hampton.
Of course, some things stay the same – most kitchens include an impressive island countertop – but every home features something unique. Whether that's a main floor primary bedroom, a wine cellar, an outdoor sauna or an indoor roller rink, there's always a surprise waiting in each home.
Let's take a look back at some of the unique aspects of the past Minto Dream Homes, including what to expect in this year's Le Rêve.
From towering ceilings to accessible and efficient living
In 2021, the Minto Communities Ottawa Product Development team designed the Caraway with consumer feedback in mind. Survey participants asked for a bungalow-inspired home and our team delivered, placing the elegant primary bedroom on the first floor. However, a single-level floorplan presented unique challenges to energy efficiency and meeting Net Zero standards. So the Product Development team, led by Karen van der Velden, adapted the original design by adding a second floor and relocating the two secondary bedrooms. Doing so led to a remarkable two-storey ceiling in the great room, too, with a loft overlooking the entire space.
The Caraway is also a fully-electric home, eliminating the need for fossil fuels and nuclear power, while the solar panels on the roof generate enough electricity to run its superior mechanical systems.
Eclectic finishes and refined features
The 2020 Minto Dream Home, the Bohemian, was all about functionality and self-expression. The global pandemic led us to spending more time at home, highlighting the importance of comfort and convenience more than ever before. All of which aligned perfectly with the unique boho-chic style of the Bohemian.
Tanya Collins Design embraced Middle Eastern, Spanish and Moorish design elements, like herringbone patterned tiled flooring, diamond patterned rugs and exotic mirrors. Splashes of colour, vintage accents and a variety of wood species are featured throughout, while the interior is rooted with earthy tones and organic textures. The goal was to give the home personality – make it feel individual and inspire homeowners to express their inner designer.
Each space within the Bohemian has its own flair, of course. There's something that wows you in every room – From the cathedral beams in the loft to the terra cotta backsplash tile in the kitchen to the curbless shower with black mullioned glass in the primary ensuite.
Seaside aesthetics and luxurious beach house vibes
To call the award-winning Hampton elegant is an understatement. Drawing inspiration from its namesake, the 2019 Minto Dream Home is reminiscent of a sophisticated and grand beach house in the Hamptons. It's like coastal living at its finest. This 5,641 square-foot home sits on an oversized corner lot in Potter's Key, Stittsville, backed by nature with striking views of the Feedmill Creek Conservation Area. It boasts a stunning wraparound porch with an inviting exposed beam cathedral roof above the front entrance, while the exterior combines brick and stone with board and batten accents to add to the beach house aesthetic.
Inside, the Hampton is bright and soaked with sunlight, featuring large windows and tall ceilings. The galley kitchen is that of a five-star vacation home, offering panoramic views of the surrounding green space, a walk-in pantry and a servery that flows seamlessly into the dining area. The seaside style here – and throughout the rest of the home – is what really makes this home unique. You'll find wainscotting, coffered ceilings, shiplap and grass-cloth wallpaper, along with beautiful moulding details and a palette of blues, whites and neutral tones.
To top it off, the primary bedroom is an oasis in itself, as it occupies the entire rear portion of the home. But the real luxury is found in the ensuite, featuring elegant tile flooring, a soaker tub and massive glass shower.
Rock walls and saunas and rinks, oh my!
The purpose of the CHEO Dream of Lifetime Lottery is to support the CHEO Foundation, and by purchasing a ticket, you play a key role in the success of the fundraiser. So our goal with every Minto Dream Home is to build something special and exciting – something that makes you say, "Wow! I want that!"
As you can see with the Caraway, the Bohemian and the Hampton, this goal steers us towards innovative and noteworthy features. Here are a few more memorable statement pieces from past homes:
2014 Ironwood - Home theatre
2015 Cedar: Artificial skateable ice rink
2015 Cedar: Outdoor sauna
2016 Okanagan: Climbing wall in kids playroom
2017 Red Maple: Banquette kitchen
2018 Creekside: Roller rink
2018 Creekside: Jurassic fireplace
Spaces for living, feeling and breathing well
So what can you expect from this year's Minto Dream Home? Le Rêve is meant to be chic and sophisticated, with a design largely influenced by a stylish Parisian apartment interior. You'll find a mix of classic architectural details and contemporary furniture juxtaposed by modern art-deco styling and herringbone wood floors. The exterior reflects a Modern Prairie home, designed with a wrap-around porch to maximize views and connect you to the green space in Arcadia, Kanata.
One of the most innovative aspects of this year's home are the 'invisible' elements inside. By partnering with Panasonic Canada, we brought its Breathe Well technology into Le Rêve to create a home that truly enhances your quality of life. As the first Breathe Well home in Eastern Ontario, it's one of most sustainable and resilient Minto Dream Home to date, built with a holistic approach to wellness – from the revolutionary WhisperAir Repair™ and nanoe™ X air purification system to the Swidget Smart Controls, solar panels and EverVolt™ battery storage.
And for the first time since 2019, you can tour the Minto Dream Home in person this fall! Giving you the chance to personally experience everything this amazing home has to offer. To stay informed, sign up to receive updates about Le Rêve, including photos and videos of the home, information about its wellness features and more.
You may also be interested in...
The spacious and modern Heartwood
A growing family means an increasing need for space — something that the Heartwood provides plenty of.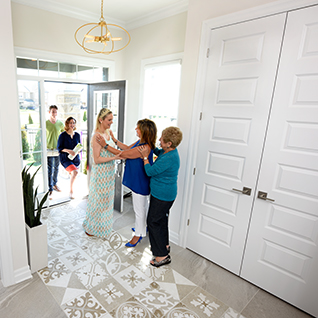 Discover the contemporary flow of the Marquette.
This beautiful detached home welcomes you with bright, open spaces perfect for hosting friends and family.
The impressively grand Elderberry
The first step into the Elderberry Model Home is a memorable one, as it teases you with a sense of its overall elegance and style.