How to Buy a New Home
Articles
How to Buy a New Home


Articles
Finding a Home: 6 things to know when buying a house
We've all heard it before - buying a house is the single biggest purchase most of us will ever make, which means it's really important to get it right. While the decisions you make when buying a home are significant, that doesn't mean they need to be difficult or confusing. The key to finding the home of your dreams is making an informed decision based on the right knowledge. You can do that by asking yourself key questions and doing the research that will help you narrow down the choices about where to live and which home to buy.
With that in mind, here are our top tips for buying a house in Ottawa.
1. Choosing a neighbourhood
One of the biggest factors in buying a home is deciding where you want to live. Sometimes that depends on price — not everyone can afford to live in Rockcliffe Park, for instance — and the first thing you'll need to do is get your finances in order so you know how much you can budget for a home purchase.
But once you've sorted out the money matters, deciding where to buy a house often depends on location and the amenities an area offers. In Ottawa, it's common for residents to stick to a familiar region — someone who grew up in the west end is more likely to buy their own home in the west end. However, things like proximity to work, affordability and lifestyle preferences also come into play.
Some questions to consider:
Do you prefer an urban, suburban or rural lifestyle?
How far is it to get to work and are there commuting options that meet your needs?
Is it close to family and friends?
Once you've determined which region of the city you prefer, you can start looking at smaller neighbourhoods within that region. More questions to consider:
Where are schools and is busing required?
Are there parks and recreational facilities nearby?
Are there stores, restaurants, services and other amenities in the area?
What is the walkability of the area?
Are there good public transit options?
What are the area's resale values?
You'll want to spend some time in the neighbourhoods you're considering. Drive, walk or bike through them at different times of the day and on different days of the week to get a sense of how the community feels.
If it's a new construction neighbourhood that hasn't been built yet, expand your exploring to neighbouring communities and check out other established communities the builder has developed. Give the site plan a thorough look to help you understand how this new community will come together and when things like parks and schools are likely to be built.
2. New construction or resale
There are benefits to both a new construction home and a resale home, depending on what's most important to you.
Resale: With resale, you're buying in an established neighbourhood and can immediately see what you're getting. However, you have no flexibility to change anything in the home unless you pay extra to renovate.
New build: With new construction, the neighbourhood is often still under development, but builders typically work on one section at a time, finish it and move on to the next section to minimize disruption for homeowners who have moved in.
A huge plus with new construction is being able to choose the lot, floor plan, features and finishes that you want to create the home that's perfect for you and that no one else has lived in. And because it's new, you know it's being built to current standards with the most up-to-date requirements for safety, comfort and energy efficiency. Read more on buying a new construction home.
3. Condo or freehold
Should you opt for a condo or freehold, and what's the difference between them?
Freehold: A freehold home is the most popular type of dwelling in Ottawa. The buyer owns the land and anything on it, including the house, sheds, decks, etc. You're responsible for all interior and exterior upkeep and maintenance, including costs, and will pay for all day-to-day operating expenses, like utilities. More on freehold homes.
Condo: When you buy a condo, you own your unit but common areas such as hallways, parking spots and the grounds are under shared ownership among all unit owners. You are responsible for many similar expenses as a freehold homeowner, including utilities, but upkeep and maintenance on common areas such as snow removal and grass cutting are taken care of by the condominium corporation and paid for through monthly condo fees. (Fees for low-rise condos and terrace homes are typically lower than in high-rise buildings.) More on condo ownership.
4. Researching new home builders in Ottawa
Finding the right builder is important to a positive home buying experience. You want to choose a builder that has a good track record, a good reputation and satisfied home buyers:
Start with their website, which should give you at least an overview of the builder's communities, floor plans, elevations, pricing and site plans.
Check their Tarion record, their Better Business Bureau rating, and things like social media/online reviews and forums.
Visit the builder's models, making note of what you like and don't like. Also, note the quality of the construction.
Visit other communities the builder has developed. Do they stand up over time? Ask residents if they are happy with their home, the neighbourhood and the service.
If you know someone who has recently bought new, ask what their experience with their builder was like.
Questions to ask a builder:
What makes your homes different from other builders?
Can you predict what my energy costs might be?
How long have you been in business?
What are your included features and specifications?
What do you provide in after-sales service?
Do you build to the building code or beyond? If so, how and what?
How, and how often, do you communicate with buyers?
Understanding floor plans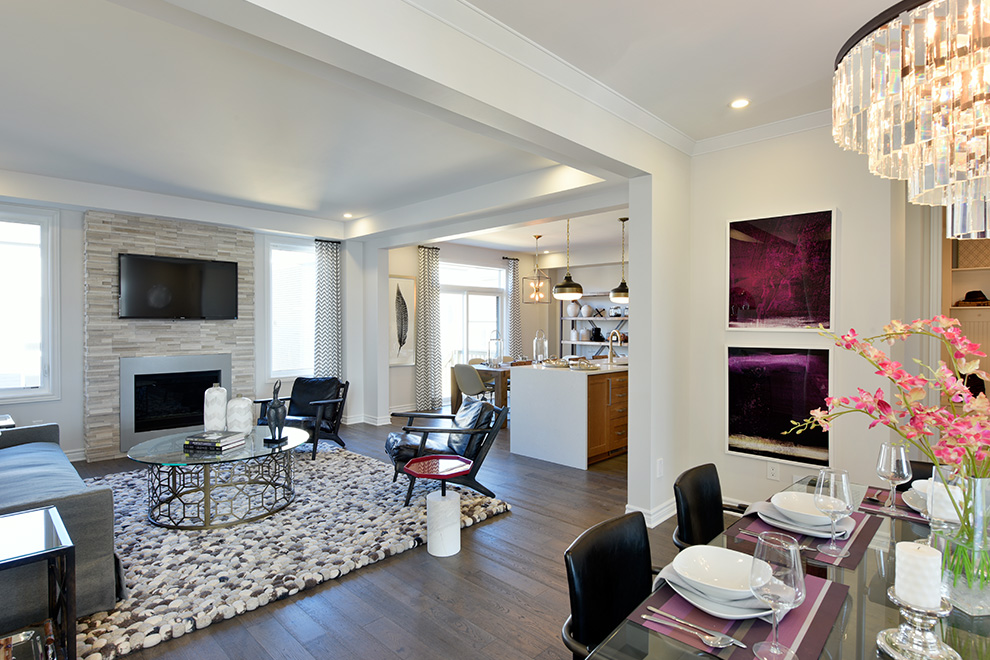 It can be difficult to look at a two-dimensional floor plan and get a sense of space, flow and function. That's why builders have model homes for buyers to explore. Walking through model homes with the floor plans in hand or taking a virtual tour online can help overcome the challenge of visualizing a two-dimensional space.
It also helps to have a context that makes sense to you. Sketch out a floor plan of where you live now as a comparison, listing measurements for each room, and take this with you when you look at models and study floor plans.
Show your friends and family floor plans you're considering, even if reading floor plans is easy for you. Everybody sees things differently and they may pick up on something you don't.
Consider bringing someone along who has experience in this area. They may be able to point out key things to consider.
And don't be afraid to talk to the sales centre staff. They are there to answer questions.
When choosing between floor plans, keep in mind not only your current needs, but future ones as well. Is your family growing and will the home be big enough in 5 or 10 years if you don't plan to sell and move up to a larger home? And are the spaces flexible to fit your lifestyle?
6. Personalizing your home
One of the ways builders keep new construction home costs in check is by offering a portfolio of floor plans to choose from. By building that portfolio of homes over and over again — hence the term production homes — builders fine-tune material and labour costs to keep homes more affordable.
These homes will usually have a selection of features and finishes to choose from to suit the style and taste of each buyer. But often a buyer will want to add more of their personality to the standard floor plan and finishes, and this is where additional investments and flex plan options come in.
Additional investments are add-ons to the purchase price. Some buyers will opt for very few additional investments, while others will choose several. Which ones you choose will depend on your budget and preferences. In many cases, these additional investments are chosen to enhance the quality of a finish — such as opting for granite or quartz counters instead of laminate — or to create a higher resale value down the road. More on our Minto Design Centre experience.
If your wish list is greater than your budget allows, a good rule of thumb is to consider those additional investments that would not be easy to do once your home is built and you are living in it. For instance, counters and backsplashes are easy to swap out later, but opting for nine-foot second-floor ceiling height is best done before the home is built.
Another way to look at additional investments: the ones that tend to give you the most bang for your buck if you later sell your home are kitchens, ensuites and main-level flooring.
Once you've chosen your dream home and made your design selections, then comes the fun of watching your new home being built and, finally, moving in!
The key to getting to the move-in stage is to use this new-found knowledge to ask the right questions so that you will be able to narrow down all the choices about location and type of home and make informed decisions. Then, enjoy your new home!