How to Buy a New Home
Articles
How to Buy a New Home


Articles
Top 5 Design Centre Options for Executive Townhomes
Buying a new home, whether it's your first or your next, is an exciting moment in your life. It might be the biggest investment you ever make too, which is why personalizing each space is so important. At the Minto Design Centre, you have access to a variety of layouts, fixtures and finishes – along with a Design Consultant guiding you from purchase to move in and helping you create a home that's uniquely yours.
To make your home buying journey even easier, many of our Executive Townhomes now include a Design Centre bonus!
Once you've made the first step and purchased a new home with Minto Communities, it's time to let your personal style shine. To help you get started, we've taken our 60+ year's experience of building new homes in Ottawa and identified the top 5 Design Centre requests for Executive Townhomes. Let's get started!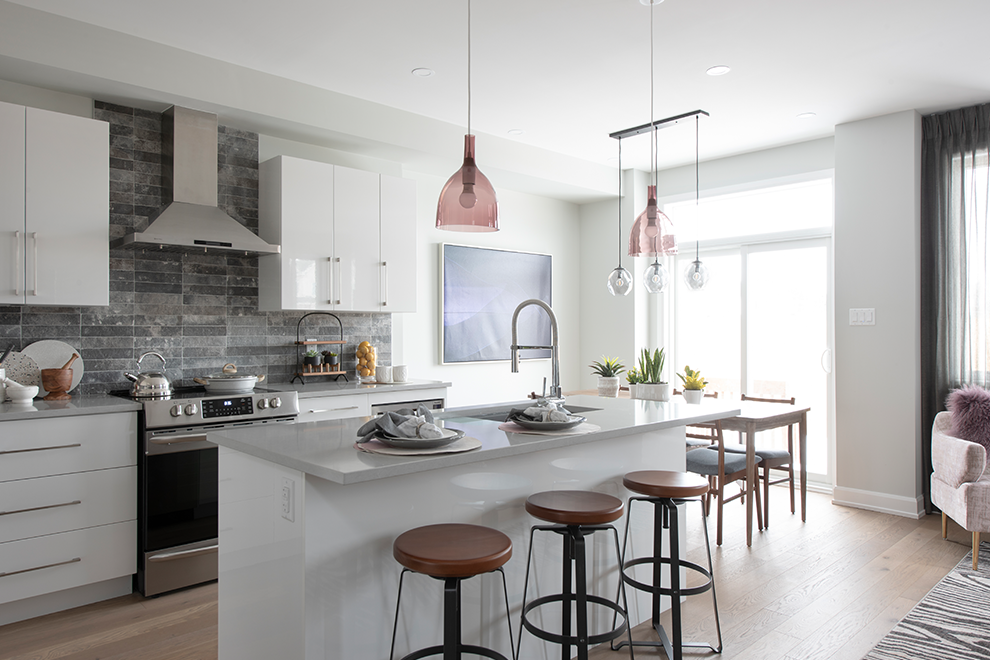 1. Create a Kitchen That Wows
The kitchen is one of the most popular spaces in your home. So there's no surprise it's a major focal point for many homeowners during their Design Centre appointments. There's a lot to consider, from lighting and layout to fixtures and flooring.

To offer move value, your new Executive Townhome includes quartz countertops in the kitchen, creating the foundation for an impressive space. To further enhance the design, a common upgrade at the Design Centre is swapping out the tile flooring for hardwood. This adds warmth and richness to your kitchen, while creating continuity between the flooring in the adjoined living room. Other popular elements to consider include:
Cabinet fixtures
Interior lighting
Hood fans
Backsplash tile
Installing additional appliances like a microwave or a wine fridge


2. Opt for Hardwood Flooring
Many homeowners choose to upgrade their Executive Townhome with hardwood flooring. While hardwood is included on the main floor, excluding tiled areas like the kitchen and foyer, you have the option to upgrade to hardwood in other spaces, too. Oftentimes, homeowners will finish the entire main floor with their favourite type of hardwood, but some will upgrade from the carpeting on the second floor. The hallway is the most common area homeowners choose to opt for beautiful hardwood, with the primary bedroom being a close runner up.

Our premium, engineered hardwood flooring is a low-maintenance alternative to carpeting. It looks great, it's easy to maintain, and it lasts for years. Plus, while resisting stains and wear and tear, it's another way to increase the value of your home!


3. Upgrade Your Railing Package
You may think the railings in your home won't have a significant effect on its design. However, switching from a low wall to an upgraded railing package can take the look of your stairs to the next level. Choose from wooden railings and posts and stainless spindles – remember, your Design Consultant is happy to help if you need guidance.


For even more impact, consider exposing the hardwood instead of completely covering your stairs with carpeting. Or opt for a classic look with a carpet runner.


4. Fire it Up
Another advantage of buying an Executive Townhome is each model is upgraded with a finished basement. This not only gives you more livable space, but it also increases the resale value of your home. For more comfort and coziness, many homeowners choose to install a fireplace to their basement, further improving the worth of their investment while adding a touch of elegance. You can also add ambiance and warmth on the main floor by adding a fireplace to the living room.


Fireplaces are only available in certain Executive Townhome models – speak to the Sales Team in your preferred community to learn more.
Another common upgrade to your basement is brightening up the space with additional lighting. Pot lights are a popular choice by many, as they are unobtrusive yet modern and stylish at the same time. Plus, pot lights are a great way to maintain a warm and inviting basement, perfect for gathering family and friends for movie night, the game, whatever!


5. Select an Optional Flex Plan
Finally, selecting a Flex Plan is another popular way homeowners personalize their home and maximize space. Flex Plans allow you to make specific adaptations to your floorplan, helping you meet the needs of your family – now and into the future. For instance, the
Citrus
Executive Townhome has the option to transform the second-floor loft into a 3-piece bathroom while adding an ensuite to the primary bedroom. Other examples include installing a 4' shower with bench in the primary ensuite of the
Haven
, changing the layout of the kitchen in the
Laguna
and replacing the low wall on the second-floor landing of the
Monterey
with a railing.
Some Flex Plans must be selected at the time of purchase – to learn more, speak to the Sales Team.



Other Design Centre considerations
As you can see, there's a lot to consider during your Design Centre appointments, with plenty of options to choose from in our
design catalogues
. Beyond the elements above, here are a few more things to think about while personalizing your home:
White stays in style – if your home is an investment property or you want to increase its resale value, limit dark or very colourful items.
Our Executive Townhomes come standard with quartz countertops in the kitchens, but some homeowners choose to install them in the primary ensuite or guest bathroom.
Design Centre selections are installed by our professional trade partners with some being protected under your new home warranty – speak to your Sales Representative or Design Centre Consultant to learn more.
Remember, your Design Consultant is there to guide you through each phase of personalizing your home – whether it's choosing a Flex Plan, installing a railing package or selecting your flooring. The design is up to you, but you have support along the way.


Need some inspiration to get you started? Tour our Model Homes in Barrhaven, Orléans and Manotick – or view them virtually from anywhere!