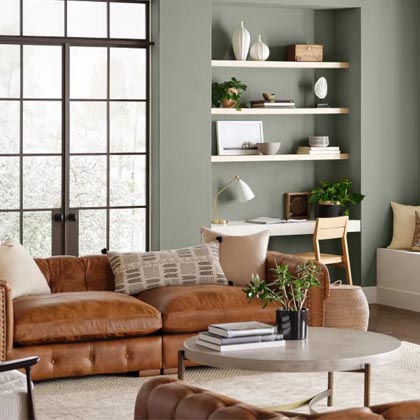 LIVE brighter
A roundup of colour trends for 2022
The start of a new year may be all about resetting our personal intentions, but it's also the perfect time to refresh our living spaces and embrace the very latest colour trends. We're tapping in to the top picks of some of the most renowned colour authorities to see what shades they've chosen as the standouts in 2022. Read on. [...]
---
13 January, 2022

Articles related to how to save energy and reduce waste, net zero, greening your commute and all things sustainability.
With the recent release of Minto's formalized Environmental Social and Governance (ESG) report, we checked in with Carl Pawlowski, Project Manager, Sustainability with Minto Communities Canada to get all the deets on why sustainability initiatives and third party verification are game-changers for the industry. More [...]
Let's chat sustainability with Joanna Jackson, Director of Sustainability & Innovation. Learn how her team is working to make Minto's properties more environmentally friendly [...]

Articles related to spring cleaning, better sleep, managing stress, staying active and living a healthier lifestyle.
When the temperature soars, be sure to keep your health and wellness top of your mind with these 5 summer wellness tips for apartment dwellers [...]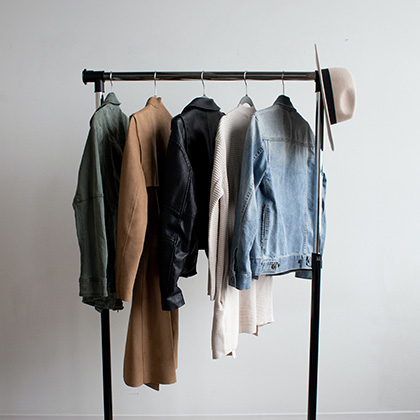 With spring upon us, it's a great time to sort through your clothes and prepare for the warmer weather ahead. We have lots of great suggestions on how to purge your small space closet for a tidier room and stress-free mind [...]

Articles related to education, innovation, finance and living smarter.
Is your home ready for the winter months ahead? If not, we can help. Check out our six tips on how to get your home winter-ready, starting with the inside.
Get ready for the cooler months ahead with our fall home maintenance checklist. From sealing your windows to changing your furnace filter, we've got you covered. We've even included an infographic you can pin up to help keep you on track! Read on [...]

Articles related to giving back, getting involved in your community and how you can change it for the better, and events and initiatives that bring us together.
Stunning colours, cozy sweaters and pumpkin-spiced everything aside, fall is the perfect time to take stock of what we have and count all our blessings with the celebration of Thanksgiving. We've put together a list of 4 ways to make this holiday one to remember – no harvest required [...]
This September 30th is the first ever Truth and Reconciliation day in Canada – a day dedicated to the Survivors of residential schools and in honour of those who were lost. Read on to learn how you can show your support for Indigenous communities on this important day […]

Articles on design trends, DIY projects and hacks, tips on how to organize your space and all things design and décor.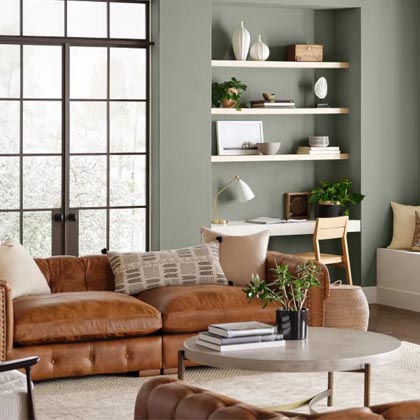 The start of a new year may be all about resetting our personal intentions, but it's also the perfect time to refresh our living spaces and embrace the very latest colour trends. We're tapping in to the top picks of some of the most renowned colour authorities to see what shades they've chosen as the standouts in 2022. Read on.
The holidays are just around the corner, are you prepared? Don't fret if you haven't decorated yet - take a look at this list of 10 last minute holiday décor ideas [...]
Detached Homes, Townhomes & Condos
Moving is a big deal for everyone involved – including your pets! Be sure your move goes as smoothly as possible with these 7 tips on setting your pet up for success when it's time to move apartments […]
The '90s were all about graphic colours and patterns, great music, video games, the Internet (!) and design trends that paved the way for what we know and love today. Relive all of the nostalgic glory with these 5 ways to bring back this awesome decade in your apartment […]
If you're about to embark on a long distance move and are wondering where to begin, we've pulled together this list of 5 tips to help you best prepare to move from one city to another […]
Detached Homes, Townhomes & Condos
Our power team designers are back for the 2021 Minto Dream Home for CHEO. See what they've dreamt up this year.
With over 20 years of partnership, we're proud to give back to our community and build the grand prize for the CHEO Dream of a Lifetime Lottery again.
From splashes of colour and eclectic artwork to perfectly furnished spaces on every floor, here's a peek into what you can expect.
Detached Homes, Townhomes & Condos
Houseplants are a great way to bring the outdoors in and brighten up your home, especially during the colder months. Here are 10 of the easiest houseplants to take care of [...]
The third Monday of January is known as Blue Monday because with the colder weather and darker and shorter days. We've created this list of 10 ways you can stay cheerful this Blue Monday [...]
One of the best parts of the holiday season? Eating! We've put together a list of our 10 favourite recipes to make during the holiday season [...]
Detached Homes, Townhomes & Condos
Some tips on how you can create a well-adjusted, well-appointed space that caters to your needs, while nurturing a sense of wellness.
Sustainability isn't just about being environmentally conscious. It's about the actions we take to invest in building a future by consuming fewer natural resources, minimizing waste and reducing greenhouse gas emissions, while providing customers with modern spaces to live, work and play in.
There's always something new to discover in Kensington, whether you're new to the City or have lived in Calgary for years.