Ways to Relax in Your Minto Communities Home
Kick back and unwind right at home this National Relaxation Day.
National Relaxation Day is the perfect day to remind us to take the time to slow down and relax. It's so easy to get caught up in the hustle and bustle of daily life, so sometimes we need days like today to give ourselves permission to take a break.
Relaxing can look like different things to different people, from unplugging and spending time with loved ones to treating yourself. Whatever leaves you feeling rejuvenated and rested can be the perfect relaxation activity.
When you live in a home with amenities that support your health and well-being, it's easy to kick back and unwind without leaving the house. Read below for some ways to relax in your Minto Communities home this National Relaxation day.
Go for a walk in nature
Research has shown that spending time in nature can have many benefits for the mind and body, such as lowering stress and boosting mood. Breathing in fresh air by going for a walk or sitting outdoors admiring the scenery can instantly relax you. Luckily, many of our Minto Communities properties are just steps away from plenty of green space. At North Oak, you have direct access to pristine walking and hiking trails. At The Heights of Harmony, you can enjoy a tranquil pond and gorgeous landscaping interconnected by pedestrian walkways and nature trails right in the community. Surrounding Union Village in Markham, you'll find wetlands, parks, green space, and new pedestrian and cycling trails. When you live connected to nature, it's easy to find moments to relax outdoors.
Go for a dip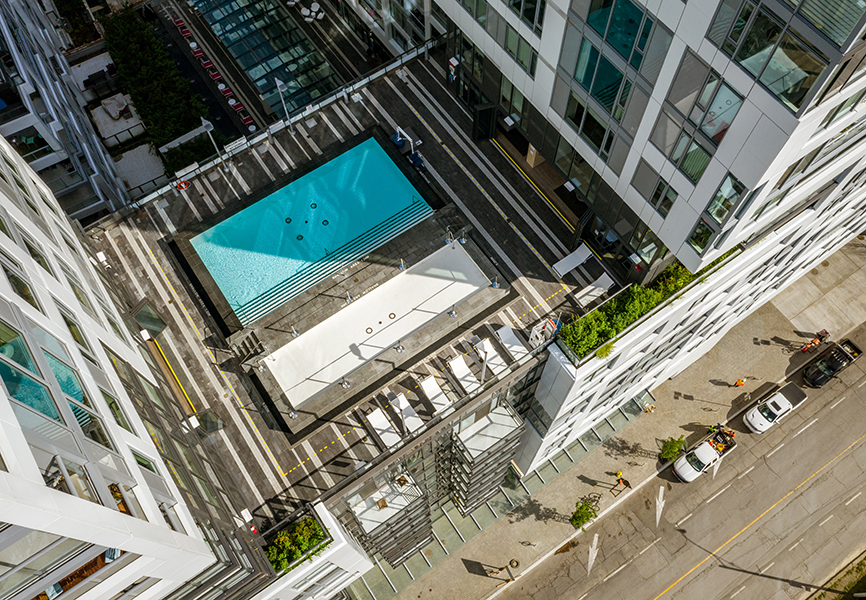 Whether you're just dipping your toes in or going for a lap, being in the water can release endorphins in the brain, relaxing you. Even just the colour and sight of water can be therapeutic! The rooftop pool at Minto Westside is a great spot for taking a dip on a summer day. At The Saint in downtown Toronto, you can enjoy water therapy in the communal rain chromatherapy room or the private spa room with individual soaking tubs.
Enjoy a meal outside with loved ones
Summers are all about eating al fresco and soaking in the sun. Something about dining outdoors with loved ones while the weather is nice just feels right. Sitting down and sharing a meal is a nice way to spend time relaxing with the ones who matter most Bond with the family over everyone's favourite meal or catch up with friends over a glass of wine. For dinner with city views, The Rooftop at 123 Portland is the place to go, with a profuse green alcoves house, secluded cabanas outfitted with grills, fireplaces, dining tables, and luxurious lounge seating. North Oak's outdoor lounge is also a great spot for outdoor dining, equipped with BBQs, dining spaces, sculptural seating, and views overlooking the plaza, promenade, and Athabasca Pond.
Soak in the rooftop views
Sitting back to admire gorgeous views, like the sunset, can improve your mood and relax your mind. The Rooftop at 123 Portland offers 360-degree panoramic views of the city with spectacular sunsets, and along the Northwestern edge, there is a row of intimate banquet seating facing the sun. Trying to find moments of peace during your workday? The Saint's co-working space on the top floor offers gorgeous views of the city, awarding you with little moments of peace while you work.
Move your body
Exercising is not only good for the body, it also can have a positive effect on your mood. When you exercise, the body releases endorphins. For this reason, physical activity can help lower stress and lift your mood. Whether you want to get your sweat on or do some gentle yoga, our Minto Communities' fitness centres have your back. North Oak has a state-of-the-art fitness facility featuring free weights, benches, and exercise machines; a cardio studio equipped with elliptical machines, bikes, and treadmills; and a yoga studio. In The Gym at 123 Portland, you have cardio equipment, a universal gravity machine, and an aerobic space. At The Saint, residents have access to a Health Centre complete with a gym, spinning room, and yoga/pilates room.
Meditate
Meditation is one of the most recommended ways to relax. Meditation can relieve anxiety and calm the mind, amongst numerous other benefits. Need the perfect serene spot to get your zen on? Both North Oak and The Saint have meditation rooms. The Saint has a communal meditation room with a salt rock wall, a star-gazing and dark meditation room, and a private meditation room. The Saint also has an open-air Zen Garden where you can take a mindful pause.
Have a spa day
Nothing says R&R like a spa day! And why go to an expensive spa when you can have the perfect relaxing spa day at home? Create the dream spa day in your comfortable Minto Communities space with these DIY at-home spa day ideas. Or find peace and tranquillity in the salt room, spa room, and infrared sauna at The Saint. Along with North Oak's meditation room, featuring aromatherapy and light therapy, there is also an infrasauna.