The Best Bakeries in the GTA by Neighbourhood
Today is World Baking Day, a day to celebrate sugar, butter, and a whole lot of love! There's nothing like the sweet aroma of buttery, flaky croissants or a cake baking in the oven to make you feel warm and fuzzy. Whether it be fresh bread, classic treats like cookies and pies, or more innovative desserts, baked goods can always spark a sense of joy.
Rich with culture and diversity, the GTA is home to some of the best bakeries. From colourful French macarons to creamy Italian cannoli, you'll have no trouble finding a spot in your neighbourhood that's serving up specialty baked goods from around the world. Read below to discover the best bakeries in the GTA by neighbourhood so you can enjoy a delicious treat this World Baking Day!
Toronto
For artisanal Italian baking, Forno Cultura is the place to go. These third-generation bakers use natural ingredients and organic flours to make quality breads and cookies rooted in quality and tradition. Forno Cultura has multiple locations in the city, including downtown on King Street West. You can also visit their Biscotteria Forno Cultura at Union Station for hand-made Italian cookies.
Maman is a French-style café from NYC now with a location on King Street West in the upper level of First Canadian Place. With long wooden farm tables, blue and white tile, and an outdoor terrace, Maman offers a warm setting to enjoy a morning croissant and coffee. You also need to try one of their delicious cookies, such as the white raspberry rose or their nutty chocolate chip cookies, which were voted "One of Oprah's Favorite Things" in 2017.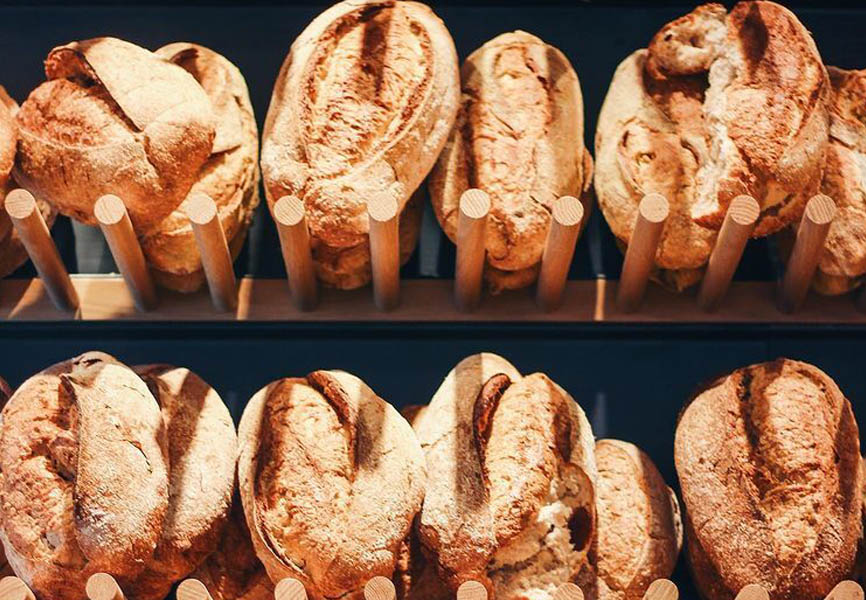 Owned by Terroni, Sud Forno focuses on making quality pastries and breads using traditional ingredients and methods. Their high-quality grains and flours are imported from a third-generation family-run mill in the Marche region. Sud Forno has locations both on Queen and Temperance.
Butter Baker is a bakery that truly embraces the multiculturalism of the city, offering a selection of cakes and desserts with unique flavours, such as The Earl Grey, Dalgona Coffee Cake, or Matchamisu. At Butter Baker, you can also find croissants, danishes, and macrons handcrafted by their sister brand Butter Avenue. Butter Baker uses fresh and natural ingredients without artificial flavours and preservatives, including Ontario free-run eggs, fresh fruits, and fresh herbs. Butter Baker has a location in downtown Toronto on Dundas, as well as in Markham.
Blackbird Baking Co. is known for its handmade, quality breads, including flatbreads and focaccia. Blackbird Baking Co. has locations in Riverside and Kensington but also works with local restaurants and retailers around the city, such as Wallace Espresso and Patria on King Street West.
Markham
Honey Honey Cakery
Honey Honey Cakery is a crepe cake specialty store specializing in Thousand Layers Crepe Cakes, Basque Cakes, Chiffon Cakes, and Roll Cakes. Try one of their unique flavours, such as black sesame crepe cake or Thai tea mochi chiffon cake.
Pies, cakes, cookies, tarts, cinnabuns, you name it! Sweetie Pie has it all. Located on Main Street Unionville, Sweetie Pie specializes in fresh handcrafted artisanal pies and also serves up vegan baked goods. If you want to enjoy a warm taste of heaven at home, you can buy a frozen pie to bake later. Sweetie Pie also has 5 locations across Toronto.
At Corner 20 Cafe in Unionville, everything is handmade. This family-owned and operated spot focuses on traditional baked goods and premium decorative cakes using quality and natural ingredients that are locally sourced. Corner Cafe 20 also does catering and custom cakes and baked goods for events.
Located in the heart of downtown Markham, Patisserie Fleur offers French-inspired dessert pastries, baked goods, viennoiseries, and afternoon tea. Patisserie Fleur also makes large cakes, custom cakes, and mini cakes for any occasion.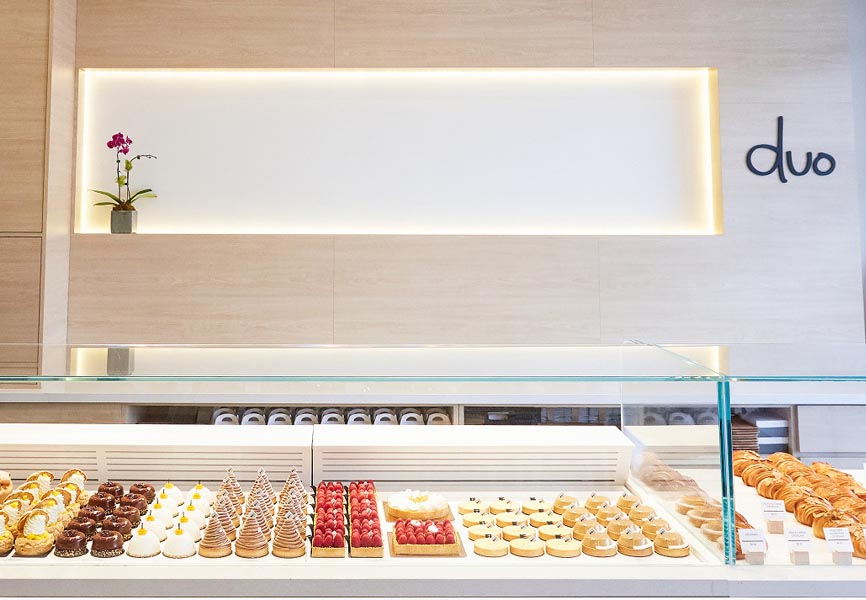 Duo Pâtisserie & Café is a French café with a Japanese flare whose desserts taste as good as they look. Duo Pâtisserie & Café specializes in viennoiseries, cakes, and chocolates. You can either visit their Duo Pâtisserie in Thornhill or their Duo Café in Richmond Hill.
Owned by Christopher Siu, the winner of MasterChef Canada Season 7, Daan Go Cake Lab combines East Asian heritage with Western culture. Located in Times Square, Daan Go Cake Lab does custom cakes and wedding cakes, as well as adorable custom macarons. Daan Go Cake Lab also has locations in Toronto.
Oakville
Black Forest Pastry Shop is a family business specializing in authentic, traditional desserts, such as cakes, pies, cookies, pastries, cupcakes, and muffins. They also serve savoury baked goods like samosas and quiches.
This boutique bakery makes cakes, cupcakes, cookies, and more that are both delicious and beautiful. Try one of their cookie sammies that come in fun flavours, such as Nutella and lemon raspberry. The Sweetest Thing also offers vegan and gluten-free options.
Sweet! Bakery specializes in gourmet cupcakes and beautiful custom buttercream cakes. At Sweet! Bakery, everything is handmade from scratch. Sweet! Bakery does custom cakes and cakes by order.
Family-owned since 1990, Monastery Bakery offers a wide selection of artisan breads. At their pastry counter, you can find sweet pastries and cakes. You can also pre-order treats online.
Casa Romana Sweets is a cake and gourmet food bakery serving up the taste of Europe. Their cakes, desserts, and pastries are made using old traditional family recipes with the best and freshest ingredients, without any preservatives.
Cupid's Gourmet Bakery serves baked goods to peanut and tree nut allergic customers, collecting and maintaining allergen declarations from all their ingredient suppliers to ensure that they are accurate and up to date. At Cupid's Gourmet Bakery, you'll find pies, cookies, squares, and loaves, as well as cookie dough balls you can buy to bake at home. Cupid's Gourmet Bakery also features seasonal flavours and kits, such as a Valentine Cookie Decorating Kit.
Etobicoke
Check out Hot Oven Bakery for handmade pastries, pies, cakes, and bars baked daily featuring fresh fruit fillings made from scratch. Hot Oven Bakery's breads and baguettes are made without any preservatives or artificial ingredients and are handcrafted according to their European Master Baker's traditional recipes. You can find Hot Oven Bakery on Kingsway, Roncesvalles, and Bloor West Village.
With their art, architecture, music, and of course freshly baked breads, Dimpflmeier Bakery shares a piece of Germany at Kipling and Dundas in Etobicoke. Dimpflmeier Bakery's breads are made with artesian spring water from their very own source in Terra Cotta, Ontario. Dimpflmeier Bakery uses century-old recipes and bakes in authentic stone ovens to create high-quality bread varieties.
Tre Rose Bakery is a bistro and deli serving pastries, cookies, and cakes. At Tre Rose Bakery, you can enjoy Italian and European-style sandwiches made with hot, fresh-baked artisan breads straight out of the oven. Go to Tre Rose Bakery to find breads of all different varieties, including large loaves, traditional and ethnic buns, Italian style bread, cheese & flavour-infused baguettes, and more.
The Happy Bakers is a small boutique café that specializes in classic homemade sweet and savoury treats, from scones, cookies, squares, butter tarts, sweet and savoury pies, cupcakes, and so much more. The Happy Bakers offers an impressive selection of 30 different varieties of scones, such as apple cinnamon and blue cheese walnut.
At Tatsu's Bread, Master Baker Tatsu Sato blends Western and Japanese cultures to make handcrafted baked goods, such as sweet pastries and Japanese-style roll cakes. With weekly live music from Humber College's Music program and local artist features, Tatsu's Bread provides the perfect ambiance for enjoying a baked treat. They also have vegan products.
With locations in South Etobicoke and Waterloo, Holy Cannoli is the place to go for authentic, fresh Italian cannoli. Italian baker and owner of Bona Via Bakery, Nicola Chiaravalloti, developed the now-famous Ricotta recipe used in their cannoli after a trip to Sicily many years ago. Holy Cannoli's fresh-filled cannoli can also be found at one of their many retailers across the GTA.
Oshawa
Located in downtown Oshawa, Cupcake Goodness offers award-winning butter tarts and custom baked goods made with family recipes. You can browse their selection of tasty treats online, which include DIY donut kits and cookie packs. Cupcake Goodness also offers monthly pie and cake clubs.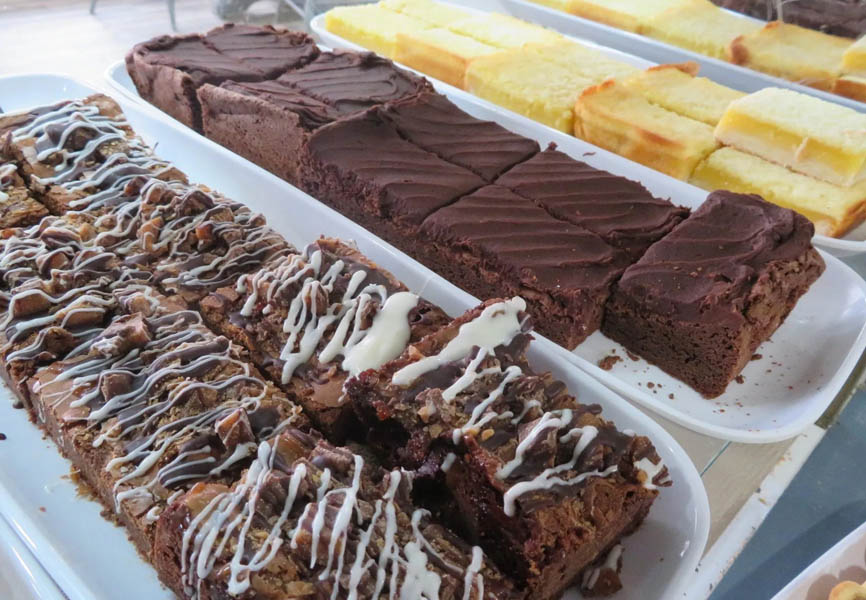 Our Little Bakery is a family-run business in the South Ajax community known for making delicious cookies, scones, tarts, and cupcakes. Have a specific dessert request? Our Little Bakery also does wedding cakes, birthday cakes, and dessert trays. Our Little Bakery's customer favourites are their fresh scones produced every morning.
For authentic Italian catering that includes freshly baked breads, cakes, and treats, check out The Baker's Table. This family-owned and operated European-style bakery uses the purest ingredients and cutting-edge techniques to make quality baked goods. The Baker's Table has been the Oshawa/Whitby This Week Readers' Choice Award Winner multiple years in the categories of Best Bakery/Best Dessert.
Cupcake Junkie is known for its mix and match cupcakes and desserts. Cupcake Junkie makes delicious, dense cakes made with real butter vs sponge cake. Along with doing custom cakes, Cupcake Junkie also offers DIY kits for decorating cookies and cakes at home.
This premier cake boutique specializes in custom-decorated cakes for all occasions. Sugar Chalet Bakery also has ready-made cakes and cupcakes made fresh daily. Sugar Chalet Bakery is peanut and nut-free and offers eggless, vegan, gluten-free, and diabetic-friendly products.
Eat My Shortbread offers nut-free/peanut-free handmade shortbread that is also free of added preservatives. Eat My Shortbread is 100% Canadian-made and uses only real ingredients. You can find their variety of baked goods, bites, brownies, scones, tarts, cookies, and stash boxes online, in boutique stores and websites, as well as in Sobeys and Foodland's across Ontario.