Halloween Events Around the GTA This Weekend
Have a spooktacular weekend with these Halloween activities taking place around the GTA!
Halloween is on Monday and there are plenty of spooktacular events taking place around the GTA this weekend by our Minto Communities homes that'll get you in the Halloween spirit. Whether you like getting spooked or just enjoy dressing up, there's a Halloween event happening in the GTA this weekend for you! From family-friendly activities to adult-only events that are sure to bring the scare factor, get ready to have a haunted weekend. Here's a look at some of the best Halloween events around the GTA this weekend:
Canada's largest Halloween event is back! During Halloween Haunt, Canada's Wonderland is turned into a scream park featuring Halloween attractions, such as scare zones, mazes, street performers, live music, night rides, and live shows. You must be wearing makeup/costumes to enter.
Spooktacular Light Show is a family fun drive thru featuring over 2 million lights on a 2 km pumpkin filled route complete with 2D and 3D displays, music, lights, and more. You can catch the Spooktacular Light Show at two locations in the GTA: Meadowvale Go in Mississauga and Richmond Hill Go in Richmond Hill. The Spooktacular Light Show offers one price for one car load, so you can pack the entire family in the car to enjoy this enchanting Halloween light show.
Take a walk down a haunted forest trail or play a game of zombie laser tag at this Halloween attraction in Oshawa.
Located in Etobicoke, Martino Manor features an indoor haunted house and outdoor maze. Martino Manor is for ages 14+. You must buy tickets at the door, cash only.
Pumpkins After Dark is where jack-o-lanterns come alive. Taking place in Milton, Pumpkins After Dark is Canada's award-winning outdoor Halloween event. This one-of-a-kind walk-through experience features over 6,000+ hand-carved pumpkins, lit pumpkin sculptures and displays, music, sounds, special effects, classic Halloween characters, dinosaurs, dragons, and movie and pop culture icons.
Legends of Horror is Toronto's newest and largest zombie themed haunted house at Casa Loma. Legends of Horror operates as a promenade theatre, meaning the audience can walk through the 2 km trail at their own pace. The trail begins in the gardens below then winds through the castle's tunnels. A 3D projection is displayed on the castle's exterior bringing the characters and storyline to life. Casa Loma is also presenting Zombie Apocalypse, a 45 minute immersive experience in the zombie haunted house. Get ready for the fear factor at Zombie Apocalypse to be taken to the next level with live actors.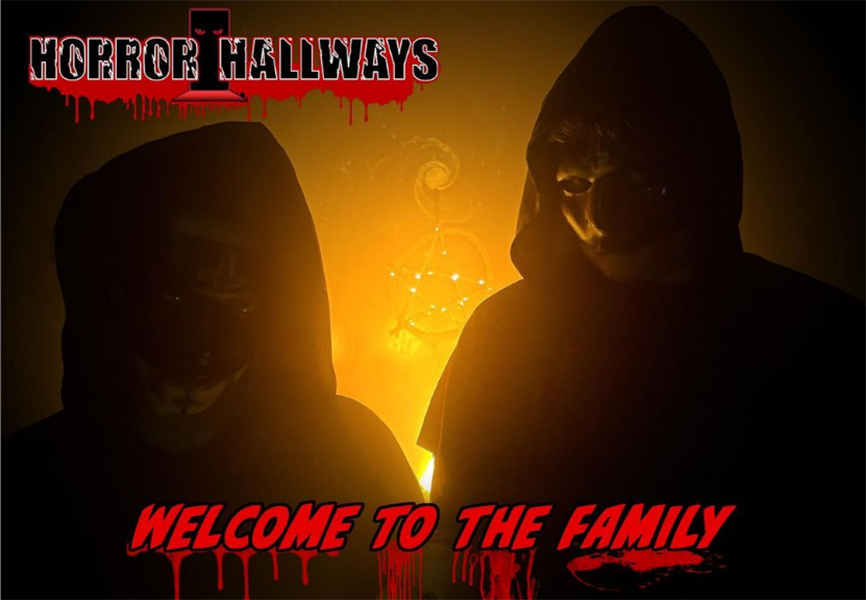 Located in Whitby, Horror Hallways is a maze of horror featuring a wide range of scary horrors. This attraction is not recommended for young children.
Enjoy a once in a lifetime experience presented by Jaymes White Entertainment at The Howland Inn Séance. During this event, groups of 16-18 guests will be invited to a recreation of an authentic Victorian Séance at one of Toronto's oldest and most haunted Inns. Jaymes has been putting on this event since 2015 and it's always sold out, so you won't want to miss it. The Howland Inn Séance is restricted to ages 18+.
This Halloween adventure in Markham is an escape room, scavenger hunt, geocaching, and amazing race all wrapped up into one. During Halloween Adventure: Vanquish a Vampire, multiple teams will compete in an outdoor adventure game to banish a ghost.
Screemers is Canada's premier scream park at Assembly Park in Vaughan. Screemers features a variety of haunted attractions, including 7 haunted walk through mazes with over 120 live actors. At Screemers, you can also enjoy unlimited rides on the Midway of Madness, along with a Food truck eatery area.
Mississauga's SPOOKTACULAR Halloween Party is designed for the entire family to enjoy. Go dressed in costume on Halloween to enjoy spooky games and music, awards and prizes, competitions, a Halloween bucket to take home filled with nut free treats and candies, and more.
Board the Halloween Dinner Train at the York-Durham Heritage Railway in Uxbridge for a 2.5 hour train ride featuring a live DJ and spookish alcoholic beverages. This is a 19+ event. Make sure to go in costume as there will be a prize for best dressed.
Get your costume ready and prepare to party all night long at the House of Horrors Costume Bash, taking place in Downtown Toronto. The party will feature spooky decor and the best in ghoulish Hip Hop, Rnb, Top 40, Soca, Reggae, and Afrobeats.
Taking place at CF Sherway Gardens, Halloween Nights of Lights is an immersive walk-through experience featuring more than 1.5 million LED and RGB lights animated and synchronized to your favourite Halloween tunes. At the end of the trail, you'll find Pumpkinville, an interactive fun fair featuring larger-than-life pumpkin sculptures, dozens of photo op's, pumpkin houses, and a village inside of a candy forest all made with over 25,000 REAL pumpkins.