20 Random Acts of Kindness Ideas
Happy Random Acts of Kindness Day! Created by the Random Acts of Kindness Foundation, this commemorative day is intended to be a day for inspiring and encouraging meaningful acts of kindness. The Random Acts of Kindness Foundation is a nonprofit organization that invests in resources to help make kindness the norm. From spreading kindness at work through thoughtful gestures to practicing kindness at home, the Random Acts of Kindness Foundation highlights the positive effects of kindness.
Random Acts of Kindness Day reminds us of the importance of altruistic acts. No matter how big or small, kind gestures have a positive impact on the community and those in it. Here at Minto Communities, we value community and initiatives that empower us to build healthier and happier communities together. Wondering how you can celebrate Random Acts of Kindness Day? Read below for 20 Random Acts of Kindness ideas that help give back to the community!
Pick up litter
Help beat pollution and take care of the environment by picking up litter when you see it. Even if you weren't the person who threw garbage on the ground, you can still lead by example by picking it up. When people see others cleaning up, they are reminded to not throw their trash on the ground and may also be inspired to clean up too! Picking up litter when we see it is an easy way to keep our neighbourhoods, streets, parks, trails, and beaches clean and healthy.
Start a community garden
A community garden is a space where people come together to collaboratively grow fruits, vegetables, flowers, and plants. There are many benefits to starting a community garden, such as improving sustainability, promoting biodiversity, and improving access to fresh food in urban spaces. Community gardens have a positive impact on both the local community and the environment.
Volunteer
Volunteering your time and energy to a cause you care about is a free and easy way to give back to the community. Don't know how to get started? Volunteer Toronto is a great resource for finding volunteer opportunities in the city that suit you. Maybe you want to help fight food insecurity by volunteering at a soup kitchen. Or maybe you're interested in helping build homes in the GTA for local families in need with Habitat for Humanity. Finding a cause you care about to volunteer for will fuel your soul and allow you to feel and see the difference you're making. Volunteering is also a great way to meet new people, gain skills, and share your talents.
Donate food to a food bank
Food insecurity is a big health problem in Canada and you can easily help by donating food to a food bank! Food banks in Canada provide people with healthy and nutritious meals by collecting and distributing food to those in need. Some common items needed at food banks include pantry staples like soups, and proteins like canned fish and meat.
Buy local
Support your local community, the environment, and the economy by buying local. There are so many benefits of buying local. When you buy local, you know where your food and products are coming from, allowing you to build up valuable and meaningful consumer connections. There also tends to be less packaging and less fossil fuels used when you buy local because the food and products aren't traveling far distances. Explore local shops, restaurants, and businesses around your home in the GTA to discover small businesses to support.
Donate blood
When you donate blood, you are literally saving lives. Donated blood is used to help people in surgery or those who may need blood transfusions, such as folks undergoing cancer treatment. It's easy to become a first time donor with Canadian Blood Services. They will walk you through all the steps, from figuring out your blood type to finding a donor center near you.
Buy a stranger coffee
The next time you're at your favourite coffee shop, consider buying a stranger coffee! Your generosity may make someone's day or lead to you striking up a conversation and making a new friend.
Call someone you love
When was the last time you called someone you love just to tell them you love and appreciate them? Carving out time to show the special people in your life that you care will always be a welcome gesture.
Leave a positive review
What better way to support your favourite business than by leaving a positive review? Supporting small businesses doesn't always have to cost you. Just sharing the love and introducing others to your favourite spots can go a long way.
Give up your seat on public transit
Practice kindness on your morning commute by giving up your seat on a crowded bus or train. If you see someone who may need the seat more, such as an elderly person, a pregnant woman, or a parent with young kids juggling groceries, the small act of giving them your seat may be a lifesaver for them.
Buy a coffee or warm meal for someone in need
Access to shelter, protection, and food are hard to come by. Buying a coffee or warm meal for someone in need will help keep them warm and offer them nourishment. Alongside donating to a foodbank, buying a drink or meal is an easy way to help feed the less fortunate.
Pay for someone else's meal at a restaurant
If you have the means to do so, paying for someone else's meal can be a really kind gesture. To make it a truly selfless act, leave before they're done eating, that way when they get their bill, they'll be surprised by the anonymous generosity.
Offer to help your neighbour with yard work
Help out your neighbour by offering to shovel their snow, mow their lawn, water their grass, or rake their leaves. Offering to help a neighbour with yard work may take a load off their hands when they really need it. It's also a great way to build up a friendly relationship with your neighbour and you'll probably find that the next time you need a hand, they'll be there for you in return.
Donate used towels or blankets to an animal shelter
Donating your used towels or blankets to an animal shelter is an easy way to help animals in need. Many animal shelters also take in other gift–in-kind donations, such as toys and leashes.
Donate used clothes to charity
Rather than let the stuff you no longer use anymore sit going to waste, donate it to someone in need. Oasis Clothing Bank has bins all over the GTA. Or you can organize to have items picked up right from your home by Diabetes Canada. Here is a list of more places in Toronto where you can donate clothes to people in need.
Give someone a compliment
A simple compliment can brighten someone's day. Tell a coworker that you value their work and collaboration. Or tell a stranger they have a nice smile.
Invite a friend you haven't seen in a while out to lunch
Think about how nice it feels when an old friend reaches out to make plans and catch up.
It's sometimes hard to keep up with the people we care about when life gets busy. Inviting a friend out for some quality time is a nice way to let them know you're thinking of them and value them.
Leave a thank you note in your mailbox for your mail courier
Mail couriers deliver packages every day, but rarely ever receive thanks. Leaving a little thank you for the people delivering your mail can be a thoughtful gesture. There are different ways you can show your thanks, such as leaving a handwritten note in your mailbox or a baked treat on your porch.
Hold the door open for the person behind you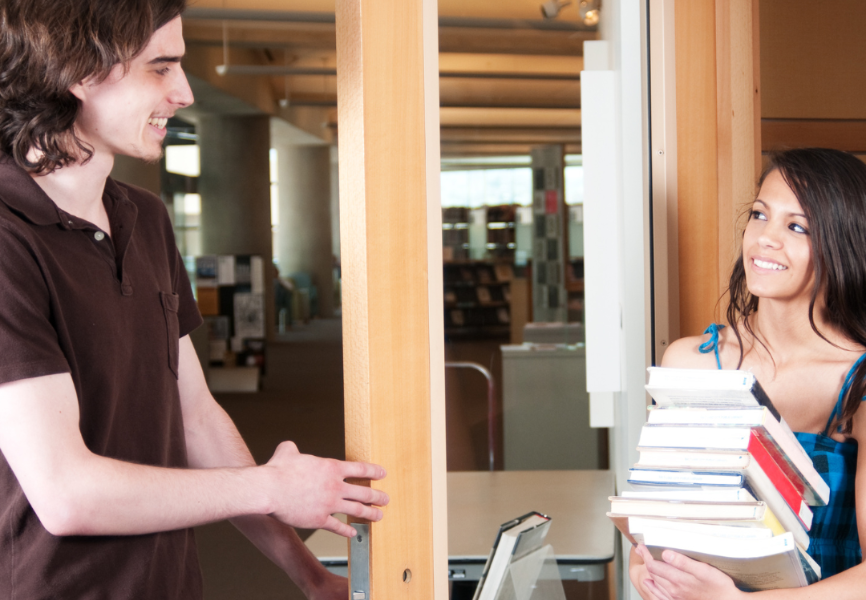 A simple and timeless way to practice kindness in your daily life is by holding the door open for the person behind you. This polite gesture makes it easier for the people following behind you and is a great way to spread kindness when crossing paths with others.
Leave an unexpected kind note for someone to find
You never know what someone is going through. Leaving an unexpected kind note for someone to find may put a smile on someone's face on a rainy day. Think of leaving the note in a place people will easily stubble upon it, such as at a bus stop or in a library book.