Westlake Offers New Homes in Palm Beach County
More than a community. Florida's new city.
All new from the ground up, Westlake encompasses the best of Palm Beach County living with innovative and ambitious thinking to embrace all of the possibilities of tomorrow.
Award-winning developer and homebuilder, Minto Communities started with a clean sheet of paper and developed a thoughtfully crafted plan that includes friendly neighborhoods, unmatched recreation, a future Town Center, and of course award-winning Minto new construction homes – including townhomes, single-family homes, and estate homes.
Come tour our 11 designer models and Westlake Adventure Park complete with lagoon pool, tower slide, BMX pump park, on-site concessions and much more! Also visit our 9,000 square foot state-of-the-art sales center with interactive display, a café, children's playroom and interior design center. Get ready for the endless adventures of Life in Motion at Westlake!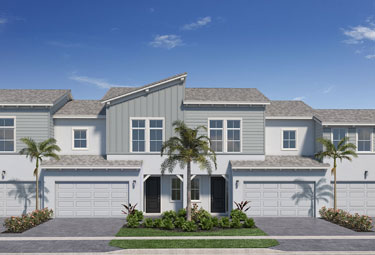 Townhomes - Bay Collection
The new Bay Collection townhomes start in the $400's and feature two-story floorplans with 2-3 bedrooms.
Single Family Homes- Cypress Collection
Our single family Cypress collection starts in the $400s and offers 1 or 2 story homes.
Single Family Homes- Indigo Collection
Homes in our Indigo collection start in the $400s, and range from 3-6 bedrooms.
Single Family Homes- Atlantic Collection
Estate homes in the Atlantic Collection start in the $600s and offer 11 new floorplans ranging from 2-6 bedrooms.
Move-In-Soon
Homes
Offering plenty of space for every type of family, these homes are ready to be yours today.
New townhomes, single family and estate homes for sale in the heart of Palm Beach County
New construction homes for sale from the $400's
No CDD fees homeowners save thousands of dollars
3% Welcome HeroesTM Discount for currently active teachers, police officers, firefighters, military, healthcare and government workers*
Convenient access to both I-95 and the Florida Turnpike
Resort-style amenities at Westlake Adventure Park, including a lagoon pool with tower water slide, bocce ball courts, BMX pump park, Snack Shack & Scoops Ice Cream and so much more!
Amenities
As a comprehensive, all-new community, Westlake fosters an embracing spirit that promotes the well-being of its residents, strengthens families and builds new friendships.
Photos & Videos
There is no better way to get to know this new community than by exploring our model and lifestyle galleries.
Westlake Adventurer
Check out our new digital magazine, Westlake Adventurer, for the latest community updates!
Take Interactive Tour
Customize your dream home, right down to the furniture! Our tour also includes a map that highlights key spots and the surrounding Palm Beach County area.
Welcome Heroes Incentive
Minto Communities appreciates the many public servants whose efforts contribute so greatly to the well-being of our communities and neighbors. To demonstrate our gratitude, we will honor those who serve with our Welcome HeroesTM Discount, a 3% discount off of a new Minto home at Westlake. That's a savings of thousands of dollars to give a helping hand to our hometown heroes!
Minto Green
Minto has long been committed to developing environmentally sustainable communities and building single family homes with the finest "Green" technologies and products.
Community Foundation
Minto is a company committed to giving back to the local community. The Westlake Community Residences Foundation was created to enhance affordable and workforce housing options within the City of Westlake.