Minto's History in Barrhaven
Minto has a long-standing commitment to the Barrhaven community, having played an integral role in the development of the area since the 1970s. Over the years, we've developed 8,500 homes in various neighbourhoods including the original 'Barrhaven' development and Cedargrove in Old Barrhaven during the 1970s and 1980s, then Chapman Mills, Ampersand, Winding Way and Stonefield Flats and now, Quinn's Pointe.
Even from the beginning, environmental protection has been high on our list of priorities.
Stonefield Flats community was the largest LEED® for Homes multi-family community in Canada when it was built, achieving LEED Silver Certification.
Ampersand was used to showcase sustainable design with the Asia Pacific Partnership and the Canada Mortgage and Housing Corporation under the EQuilibrium Communities™ initiative.
Minto worked with the City of Ottawa to preserve 52 acres of wooded area in the Barrhaven area, including the South Nepean Woods Park, and the preserved woodlot off Longfields Drive.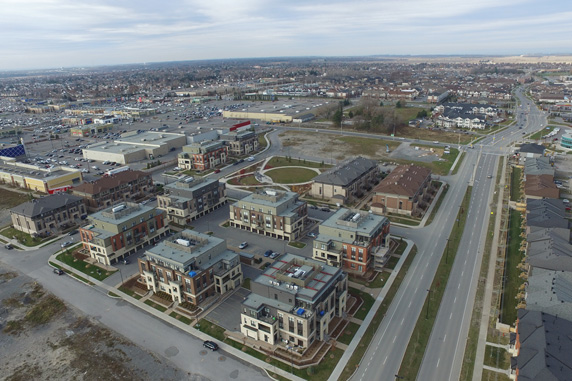 But it's our commitment to strengthening the fabric of this community that we are most proud of: with walking paths, parks, natural green space, and most recently, a partnership with the City of Ottawa to sponsor the development of the Minto Recreation Complex.
Throughout the years, Minto has pioneered innovative new home and community design in our Barrhaven communities. During the 1990s, Minto introduced a smaller, more affordable series of homes that fit on wide-and-shallow lots - with recessed garages and more windows on the front and rear of the homes. This was the first community of its kind to be registered in Ontario, and today we still incorporate many of these design features into our new homes and communities to keep new home prices affordable, and offer more attractive streetscapes.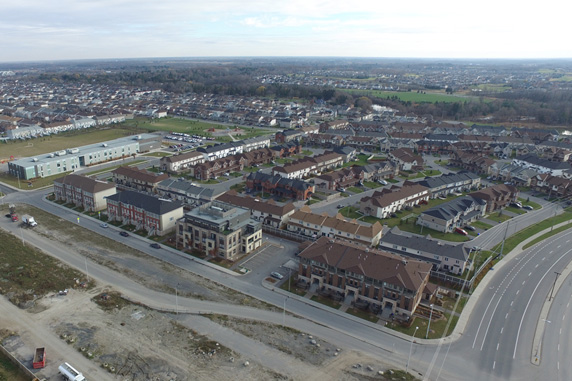 In 2001, Minto (as part of a the South Nepean Development Corporation, a partnership with the Shenkman Corporation) donated 2 acres of waterfront land on the shore of the Rideau River, to be used as a nature trail and provided development funds to the Rideau Valley Conservation Authority to help build the Chapman Mills Conservation Area.
Today, Minto is almost finished building in Chapman Mills, with only Infusion Terrace Homes available to purchase. We have started building in our next master planned community Quinn's Pointe, in south Barrhaven, offering single family homes and townhomes to a new generation of Barrhaven families.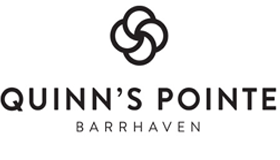 CONTACT US
Quinn's Pointe Sales Centre
4005 Strandherd Drive
Nepean, ON
K2J 6E1
Hours of Operation
Monday - Thursday: 12pm to 8pm
Friday: 12pm to 6pm
Weekends & Holidays: 11am to 6pm
Contact Quinn's Pointe