Limited time pricing and incentives on select lots
Limited time pricing and incentives on select lots
Over $30K in value
Learn more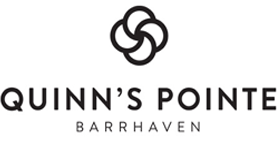 The best time to buy in Quinn's Pointe, Barrhaven
Phase 4 of Quinn's Pointe, Barrhaven is now on sale featuring Single Family Homes, spacious Executive Townhomes and new Avenue Townhomes – redesigned with more square footage.
This exciting new phase offers new homeowners the benefit of living in an established community with an abundance of features, green space, and the amenities of Barrhaven nearby. Discover:
Multiple feature-rich parks
Community ponds surrounded by pathways
A direct connection to Barrhaven shopping, entertainment, and recreation centers
Schools close to the community, with future schools being built within Quinn's Pointe
And much more...
If you're interested in living in Quinn's Pointe, here's why it's best to buy as soon as possible.
Choose your favourite home
Some home designs are designated to certain lots during a new phase. If you've fallen in love with a specific model (view our full collection here), purchasing early is your best chance to secure it.
Also, to maximize the aesthetics of our streetscapes, we follow special architectural guidelines. As one of the early purchasers, you're given more versatility when selecting the look and style of your home's exterior (or its elevation).
Lastly, for reasons mentioned above, as our communities get close to selling out, remaining homes tend to have their elevation, framing, and sometimes even finishing selections pre-determined. In other words, buying early ensures you can personalize as much of your new home as possible through our Design Centre.
Secure the lot you love
Another benefit of purchasing early is having more freedom to choose where your home is built. This means a better chance of being closer to existing community features or, in some instances, having no rear neighbours. And if you have friends or family considering the community, buying together as soon as possible makes it easier to select neighbouring lots.
If you have kids, for example, you might want to live next to a park or a pathway. Or maybe you'd like a corner lot for a bit more space. And let's not forget about the direction your home faces; if you'd rather more sunlight in your backyard than your front windows, you're in control of those details when you buy early.
Whether it's living closer to nature or closer to your loved ones – or simply selecting a lot that best suits your budget – buying early adds more choice and certainty to the process.
Get an earlier closing date
When you buy a new home with Minto Communities sooner, you have a greater chance of securing an earlier closing date; you can be one of the first to plant your roots in an exciting new phase of the community.
In other words, if you're eager to get into your new home quickly, being first in the door (so to speak) brings you that much closer to living your dream and helping shape the community.
Lock into pricing security
As you know, there's always a chance of prices changing, especially in today's housing market. But when you buy a new home instead of a resale home, you benefit from pre-construction pricing and avoid potential upticks. As well, buying a new build offers the benefit of skipping the unfair bidding wars that come along with resale properties.
Don't wait to buy in Quinn's Pointe, Barrhaven
Whether this is your first step as a homeowner or your next chapter, there's a fit for your family in Quinn's Pointe, Barrhaven. Start your story in Quinn's Pointe. Register below to receive the most up to date information, news, and special offers.