Limited time pricing and incentives on select lots
Limited time pricing and incentives on select lots
Over $30K in value
Learn more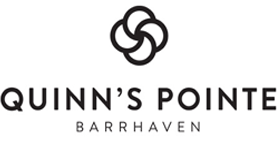 The 10 Best Things About Quinn's Pointe
Thinking of calling Quinn's Pointe home? Here are 10 of the best things about this growing Barrhaven community.
1. The Minto Recreation Complex
The Minto Recreation Complex is Quinn's Pointe homeowner's one-stop-shop for endless recreational and community activities. Besides being the location of past Minto Communities' Family Day events, the Minto Recreation Complex has something for everyone. Whether you want to learn to swim or sign up for a session or two of aquatic aerobics, the 25m long, six-lane lap pool has been ranked among the top 10 indoor pools in Canada by Chatelaine Magazine. The Complex's two NHL-sized ice rinks hold tournaments, family and pubic skates, team games and pick-up hockey. There is an outdoor field for team sports and a number of community events taking place year-round.
2. Guinness Park
Want to stretch your legs a little closer to home? Guinness Park is at the heart of Quinn's Pointe and has so much to offer children and adults alike. Kids can burn off energy on the play equipment, or cool down in the summer months in the splash pad. Embrace your inner Serena Williams on the tennis court or practice your FIFA moves on the field. Slow the pace down with a picnic on the grass or an evening stroll along the multi-use paths that connect the park to the rest of the community.
3. Minto Smarter Home Packages
When you buy a new home in Quinn's Pointe, it will be equipped with the essential components of a Smarter Home, giving you the power to control and monitor the performance of your home all from one easy-to-use app! You'll receive the Starter Package which allows you to monitor the heat, airflow and potential water leaks in your home — all free for the first three years.
4. Schools
Considering calling Quinn's Pointe home? It's never too late to think about where your child will go to school in your new neighbourhood. Luckily, there are plenty of options to choose from, including English and French public schools and Catholic schools near Quinn's Pointe. Find out which school is right for your child and be sure to attend open houses to take a tour.
5. Transportation
It's easy to get around when you live in Quinn's Pointe. The community might be tucked away from Ottawa's downtown core, but access to the 416, major OC Transpo stations and park & rides, and Fallowfield's VIA station couldn't be closer.
6. Quiet & Calm
Here in Quinn's Pointe, your new home is tucked away from the busy hub of Barrhaven. Backed by green space and untouched fields, the community is quieter and the streets are free of traffic jams. It's the kind of place where kids can safely run down to the park for an afternoon with their friends.
7. Outdoor Activities
If you're a fan of the great outdoors, Quinn's Pointe is the place to be. Live surrounded by green space and nature trails that wind along the Jock and Rideau rivers. Pack some trail mix, put on your hiking boots and hop on the Old Quarry and Stony Swamp trails for an invigorating 13.5km nature walk. If you're looking for a different kind of recreational outdoor activity, why not visit the Stonebridge Golf Club for an 18-hole round of golf?
8. Everyday Essentials
Barrhaven is absolutely brimming with the amenities, services, and retail options you need. Find everything from grocery, home improvement, banks, cafés, restaurants, entertainment — you don't have to go far to eat, drink and shop. Take a look at our Quinn's Pointe Amenities Map for a closer look at what is around your new neighbourhood.
9. Community
Something that Minto Communities takes very seriously is our connection to the greater Ottawa community. In Quinn's Pointe, we have honoured three of Ottawa's best and bravest by naming streets after them. You'll find Robin Easey Avenue and Ralph Erfle Way in Quinn's Pointe, named after two police officers injured in the line of duty in 1984, Alex Polowin Avenue, named after a WWII Navy veteran, and Lynn Coulter Street, named after former Ottawa Justice of the Peace.
10. Your Brand New Home
We're saving the best for last. We're working hard to bring even more homes in Quinn's Pointe to life. You can view our full collection of new Single Family Homes and Townhomes that are available in Quinn's Pointe, Barrhaven.
Take it from Quinn's Pointe homeowners Farrah and Brandon
We asked Farrah and Brandon what it's like to live in Quinn's Pointe. Besides the quiet streets, green space and proximity to Barrhaven amenities, hear what they had to say.