Limited time pricing and incentives on select lots
Limited time pricing and incentives on select lots
Over $30K in value
Learn more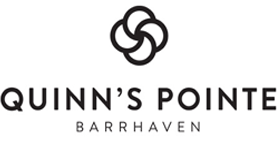 Choosing the right home for you in Quinn's Pointe
Ready to call Quinn's Pointe home but not sure which design is right for you?
Are you…
Wherever you are in your journey as a homeowner – whatever your family's needs are – there's a home for you in Quinn's Pointe, Barrhaven. Let's explore the different types of homes suitable for each stage of your life.
Are you buying your first home?
Discover comfortable living in a stunning collection of Townhomes in Quinn's Pointe. Perfect for first-time homebuyers, offering spacious floorplans with contemporary features and designer incentives.

Find more room to work, grow and play. Added in Phase 4 of the community, our new Avenue Townhomes are built with your new-and-growing family in mind – now featuring more square footage than our previous designs. Each model includes 9' ceilings on the second floor, larger windows for more natural light and additional storage space.

Want a bit more space and a finished basement? Consider one of our popular Executive Townhome models. Get similar features and finishes to those found in our 30' Single Family Homes – but at a friendlier price to first-time buyers. With three- and four-bedroom designs, open-concept layouts and upgraded finishes, an Executive Townhome is a great place to settle down and write your family's story.
Are you starting a family?
The extra bedrooms of the Executive Townhome are easily transformed – into a home office, a workout room, a nursery or a guest room for visiting grandparents. Investing in your future? A detached 30' Single Family Home is a great starter home, a little more room and additional privacy, Enjoy comfortable, stylish living in a home that fits you now and further down the road.
Is it time to find more space for your growing family?
Is it time to upgrade your home as your family grows? Maybe having a multi-generational household is important to you and you need more space for everyone to live comfortably. Turn to our collection of 36' and 43' Single Family Homes. These large 3, 4 and 5 bedroom detached homes are designed to bring you and your family all the features you could ever need — and then some. Plus, extra storage — from walk-in closets to mudrooms — ensures there's more room to relax. Consider Flex Plan options to personalize your floorplan to suit your family's needs.
Are you looking to downsize?
With children grown up and moved away, it's time to consider relocating to a smaller home. There are plenty of great options available in Quinn's Pointe that also offer more two-storey living if you plan to settle here for years to come.
Consider an Executive Townhome. These spacious two-storey homes have three or four bedroom designs that can easily be transformed into guest rooms, home offices, personal libraries and more. Enjoy an open concept main floor that flows easily and offers plenty of natural light. An Executive Townhome is low-maintenance, too. With less lawn care and property maintenance to look after, you'll have more time to spend making delicious meals with friends in the kitchen or enjoying evening movie nights with grandkids in the finished basement family room.
Do you want to invest?
Are you looking to start or expand your investment portfolio? A Quinn's Pointe Executive Townhome is a great choice. Not only are these great low-maintenance options, they are affordable and are ideally located in Barrhaven South near schools, amenities and easy access to Highway 416.
Still not sure what Quinn's Pointe home is right for you? Connect with our Barrhaven Sales Team at any time. They're happy to answer any questions and help you find the right home for your needs.