Limited time pricing and incentives on select lots
Limited time pricing and incentives on select lots
Over $30K in value
Learn more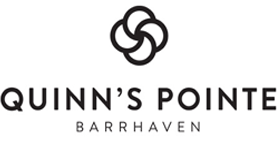 Barrhaven's amenities, just minutes from Quinn's Pointe
In addition to the contemporary family comfort, Quinn's Pointe has to offer, Barrhaven is brimming with amenities — everything you need (or want) is within easy reach of your new community. From groceries and hardware to restaurants, pubs, and recreation facilities, you won't need to leave Barrhaven to eat, drink, shop, and enjoy.
Just north from Quinn's Pointe on Greenbank is Chapman's Mills Marketplace, the nearest shopping centre, which features Loblaws and Walmart for everyday household needs. After an afternoon of shopping, consider enjoying some sushi at Pho Thi Fusion before catching a movie at Cineplex.
Journey along Strandherd Drive for other shopping destinations, including Costco at Citigate if you like to stock up on wholesale items. Montana's, Lone Star Texas Grill, and Boston Pizza are some of the many dining destinations to be found nearby. If you fancy a pint of ale or a glass of Scotch or wine, popular pubs are located conveniently throughout Barrhaven where you can experience an evening out with friends.
Nature lovers will appreciate the convenient access to surrounding parks and walking trails. Enjoy hiking or cycling through the many parks and trails to be found along the Rideau River and across Barrhaven. If a round of golf on a picturesque Saturday morning is more your thing, check out Stonebridge Golf Club. Active lifestyles can be further fulfilled at nearby recreation facilities, including the Minto Recreation Complex which boasts an indoor pool that was voted one of Canada's top 10 by Chatelaine.
If you commute to work, three OC Transpo Park & Ride locations provide quick transit access. A Via Rail Station is also featured next to the Fallowfield Park and Ride — perfect for an impromptu adventure out of town.