Growing in Harmony — two new locations to talk about!
Find Harmony in Barrhaven — this time with two great new locations to choose from! Situated in the quiet bend of the Jock River in Barrhaven, Riversbend at Harmony is a unique collection of Executive Townhomes and on sale June 23. Find green space hidden away between Greenbank Road and Longfields Drive, just around the corner from Harmony along Strandherd Drive.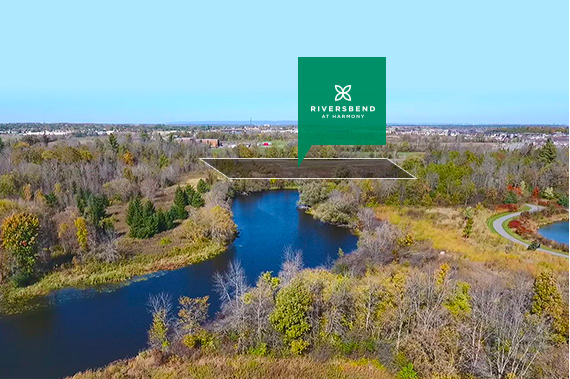 Or, choose to live in Harmony Phase Two, coming this fall with more Single Family Homes and Townhomes that you know and love from Phase One — as well as another community park! This new stage of Harmony is located along Strandherd Drive in close proximity to the French school coming soon to the community, and all you need in the heart of Barrhaven.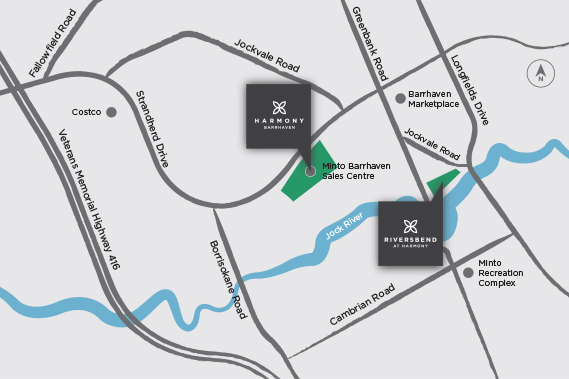 Sign up to receive news and announcements about the two new locations, Phase Two and Riversbend at Harmony.
Beautiful living is hiding along the Jock River in Barrhaven
This hidden green space in the heart of Barrhaven is your connection to the great outdoors. Keep urban life close at hand while embracing the tranquility of a neighbourhood steeped in nature. Riversbend is nestled between two major roads, yet is protected by a blanket of lush greenery, mature trees, and, of course, the Jock River to the south. Walk the quiet, inviting streets of the neighbourhood — you're in a secluded green space that feels as though it could be minutes or hours away from the city.
If you're looking for even more green spaces outside of the community, there are three to choose from, each just a short walk away! Head south from Riversbend across the river to Half Moon Bay District Park. A winding path cuts a loop around a large pond, with several lookout points, and connects to Greenbank Road and the nearby Minto Recreation Complex.
East of Riversbend, you'll find the starting point of Stonebridge Trail. Walk, jog, or bike down this extensive, 5km long network of paths and trails complete with beautifully scenic views along the Jock River. Pass multiple sports fields as you make your way into a dense, tree covered walkway that runs parallel to the river. Walk north towards Chapman Mills for yet another natural, green space with a large pond system waiting to be explored.
Looking for more great reasons to live in Barrhaven? Here are seven!
7 reasons to choose Harmony in Barrhaven

With beautifully designed homes, a vibrant community, and nearby amenities, living in Harmony is easier than you think!

Read More

A community designed with families in mind

Harmony will be home to a new French public school, a park, and green space - perfect for families.

Read More