Enjoy open-concept living at its finest in the Downing — one of our largest Avenue Townhomes. As you enter the ground floor of Downing Model Home, you're greeted with a large foyer connecting a private garage entrance to the home. You'll love the convenience of the main floor laundry room. Turn the washer on when you get home and put it out of mind as you relax upstairs. The powder room on the second floor landing is perfectly located as you're heading back out the door.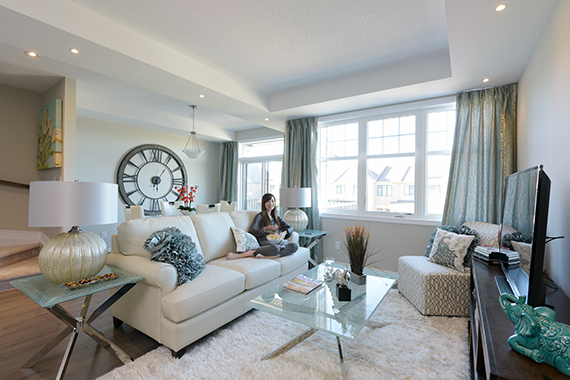 There's no need to shy away from entertaining in the Downing. Host parties large and small with plenty of room for guests in the bright, open living room. Gather around the large sofa and the kitchen island which provides ample seating for all. A high pile shag carpet adds instant comfort to the room. For a formal touch, move the party over to the dining area for a full sit-down meal.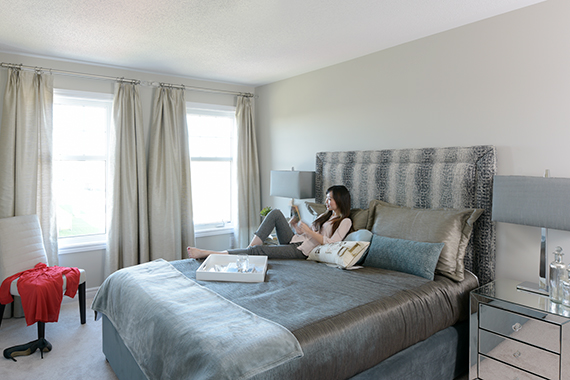 Stay connected through each area of the second floor. Make food-prep a collaborative event every night as you chat with family or friends across the quartz countertop island. White ceramic flooring and the white backsplash, complimented by dark lower cabinets and stainless steel appliances, bring a contemporary look to the open kitchen. You'll love your spacious balcony on the second-floor off of the dining room. Seat a small group comfortably around drinks and snacks on a sunny afternoon.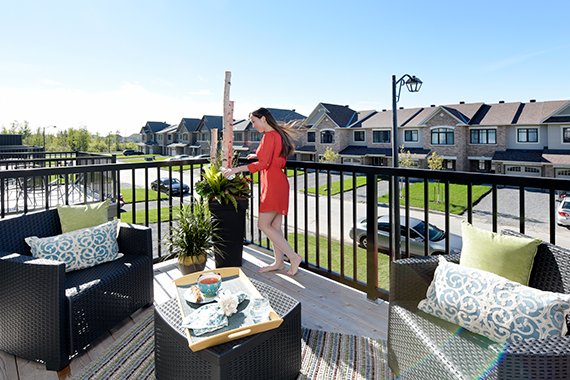 At the end of the day, retreat to the third floor to the large master bedroom at the front of the home. The large windows let the sunlight stream in — the perfect wake up call each morning. A spacious walk-in closet provides more than enough space for your entire wardrobe, and the main bathroom is designed to soothe with a soft palette of whites and creams offset by dark Queenston oak cabinetry doors. The second bedroom is well suited for a guest room, home office or upstairs den — the choice is yours!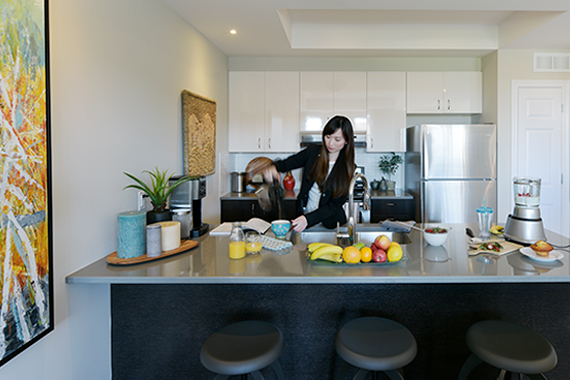 You can find the Downing Avenue Townhome Model in Avalon Encore, Orléans. Visit our stunning collection of Model Homes in Arcadia in Kanata and Avalon Encore in Orléans and discover Minto's new designs for yourself.
Finishes, flex plans, and décor described are unique to this Downing Townhome Model Home, and may include features that are additional investments through the Minto Design Centre. Availability is subject to change without notice.