Meet the Designers Behind this Year's New Model Homes
Minto Communities Ottawa welcomes back the KISS Design Group, whose creativity and timeless design talents bring vibrant personality to the nine new Model Homes opened this year. As past designers of the Minto Dream Home for CHEO—and trusted partners for over 25 years—new home buyers are treated to models that are distinct and out of the ordinary.
From splashes of colour and eclectic artwork to perfectly furnished spaces on every floor, KISS delivers remarkable home design every time.
Image: The KISS Design Team
We sat down with lead designer Donna Correy and senior designer Tracey Woodman to discuss their approach with these new Model Homes and what you can expect from each model.
The process begins well before ground is broken and the foundations are poured, Donna indicated. Working with Minto, KISS develops a unique persona for each model, or the guiding star for every element of design in that home. The three-bedroom Kinghurst, for example, is designed with a young couple or single parent in mind, while the Clairmont is aimed at a larger family requiring space that brings calmness into a sometimes chaotic household.
"We start by looking at each home as if it were a person and ask ourselves, 'how do we choose the finishes, the furnishings and the colors to reflect that distinctive purchaser?"
From there, KISS pitches mood boards for each home based on their unique personalities, including colour schemes, types of finishes and images of what a living room or kitchen might look like. The team also gives their thoughts on how each space should be used—designing a bedroom as a home office or craft room, for example—and recommends locations for lighting and televisions.
For these new Model Homes, the uncertainty of the pandemic was a driving force behind colourful mood boards, according to Tracey.
"We just wanted things to be really optimistic, colourful and full of joy and energy. When you go through the homes, we want you to have a sense of hope and excitement."
Image: Visioning board by KISS Design Group for our Stanley Model Home
Looking inside the new Model Homes
To challenge the current neutrality of most home designs in Ottawa, KISS embraced colour and unique features—international art or locally sourced handcrafted macrame fringes—throughout each new Model Home.
"The art pieces within the homes are reflective of different cultures, different views and different positive messages."
Pops of greens complement the soft white palette and dark floors in the Stanley, while warm tones are juxtaposed with ice blues, stainless steel and chrome to spice up the design of the Clairmont and inject energy into its industrial vibe.
Image: Visioning board by KISS Design Group for our Waverley Model Home
To accommodate the busy family, the second-loft in the Clairmont Model Home was designed as a family gathering area, while the furnished bedroom in the basement provides a private space for multigenerational living.
A minimalist approach to design took the stage for multigenerational-specific models like the Quinton with Guest Suite and Waverley. Rooms aren't crowded with furniture, providing ease of mobility, and both homes offer a Flex Plan option to add a main-floor bedroom and bathroom to increase accessibility.
Image: Visioning board by KISS Design Group for our Kinghurst Model Home
As a result of the pandemic, we've been in our homes more than ever before. So the KISS design team looked inward and asked, "How have people been living in their houses? What are they finding frustrating? What's not working?"
Asking these questions led Tracey and Donna to showcase how the spaces in each home are capable of pulling double-duty. For instance, one bedroom in a four-bedroom model is designed as a home office or kids' study, while you can see how the nursery in the Kinghurst has the ability to grow into a room for your toddler.
When asked about specific challenges when designing these new Model Homes, Tracey commented on the importance of being flexible and going with the ebb and flow of what's available. Furnishings and finishes were selected back in November of 2020, and due to the pandemic, back-orders and material delays had a domino effect on design.
"The fixed picture is constantly changing. It's not being diluted. As you change one day, it's not a standalone, it has a ripple effect. For the first time, we really had to be in that totally rolling ball."
Repeating popular models like the Stanley, Kinghurst and Killarney, which were previously designed and toured for five years, was a challenge Donna faced eagerly. For her, it was an opportunity to make the same homes look and feel completely different than before.
Image: Visioning board by KISS Design Group for our Quinton with Guest Suite Model Home
"That's fun for me as a designer. You want to keep pushing yourself to do new things, and this was a chance to do things differently."
In the end, the goal of KISS was to create homes families will walk through and envision themselves living in. Regardless of model size—whether you're a first-time buyer or a downsizer — Tracey and Donna want to create an unforgettable experience when you tour these homes.
They want you to dream and picture yourself living in a gorgeous home designed just for you.
As new lots are released, these Single Family Homes can be purchased in our Barrhaven, Orléans and Kanata communities. Sign up to be among the first to get updates on release dates, pricing and more news right in your inbox.
Experience the Minto Model Home difference
Step into style and tour our new Single Family Model Homes now open in Harmony, Barrhaven and Avalon, Orléans. You can tour all our Model Homes virtually or in person to see how each home can add beauty to your life in all the right places.
You may also be interested in...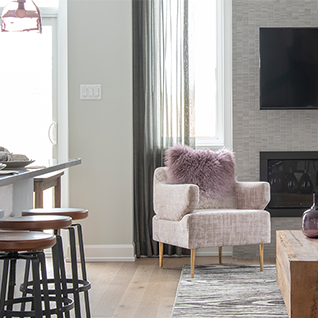 The Trendy Tahoe for Busy Young Families
Expertly appointed with contemporary selections rendering it right on trend for a busy young family.
The Young and Cool Canal
Discover a home ready for first-time buyers or homeowners of any age looking to add a little spring to their step.
Traditional Meets Modern in the Monterey End
Step inside and let the warm, autumnal colour palette of the Monterey End welcome you.