Finished Basement Rec Room on select lots for a limited time
Finished Basement Rec Room on select lots for a limited time
Over $30K in value
Learn more
New Homes on Sale Now in Manotick, Ottawa - Mahogany
Mahogany: Finished Basement Rec Room On Select Lots.
Discover more of what you love in Mahogany. The newest phase of the community brings you new Single Family Home designs, revamped floorplans, estate lots, woodlots, and the return of our popular Bungalow Townhomes. Plus access to a six-acre park and a preserved woodlot, making it easier than ever to enjoy the great outdoors.
Take advantage of Mahogany's existing features, like the abundance of green space, the interwoven pathways, the existing parks, and the Mahogany Pond. In Mahogany, you're also steps away from charming Manotick Village, where you're treated to quaint shops, delicious dining options, scenic views, and family-friendly streetscapes.
Modern, established living awaits.
Single Family Homes
Discover large, stylishly designed three, four, and five bedroom detached homes on 38', 45', and 52' Lots.
Bungalow Townhomes
Find more space and more convenience in our highly sought after 2-bedroom Bungalow Townhomes.
Site Plan
Explore the newest phase of Mahogany, with new parks, ponds, trails, and a unique collection of homes.
Gallery
Mahogany is a perfect blend of old & new. Explore our new construction homes and all this community has to offer.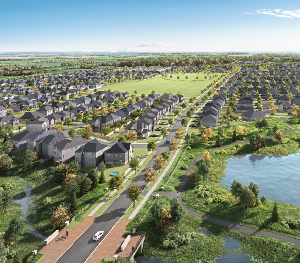 Neighbourhood
With its impressive history and lots to see and do, Manotick Village is your escape from the city.
Amenity Map
In Mahogany you're close to lots of amenities, including walking distance to historic Manotick Village.
Schools in Mahogany
Selecting the right school for your child is an important decision, and there are a number of great school options available to residents of Mahogany.
At Bridgeport Ave. & Offley Rd.
Hours of Operation
Monday: 12pm to 7pm
Tuesday & Wednesday: 11am to 7pm
Thursday & Friday: Closed
Weekends & Holidays: 11am to 5pm
Model Homes close 30 minutes prior to Sales Centre.
Click here to tour our Model Homes virtually.
Contact
All plans, dimensions and specifications are subject to change without notice. Actual usable floor space may vary from the stated floor area. Column locations, window locations and size may vary and are subject to change without notice. Renderings are artist's concept and will change if required by site conditions. Plans, specifications and materials are subject to availability, substitution, modification without notice at sole discretion of Minto Communities Inc. E. & O.E. October 2019.