There's Something Unique About Avalon Aquaview
Avalon Aquaview is an enclave of homes in the Avalon neighbourhood in the heart of Orléans. This community, now on sale, is just north of the well-established Avalon Encore and just off of Tenth Line Road and Brian Coburn Boulevard. Here, new homes will back onto the manicured pathways and the beautiful green space of Aquaview Park, offering homeowners instant access to nature.
Avalon Aquaview is bounded by Aquaview Pond and the surrounding Aquaview Park to the north and east. In addition to the natural green surroundings of Avalon Aquaview, there are plans for a future parkette within the community and multi-use pathways to connect Aquaview Drive to the existing pathway system around the neighbourhood. Take to the pathways that run along the pond and enjoy a leisurely stroll through the trees and next to the water feature. Pack a picnic and bring a ball to kick around — it's a great spot for an afternoon under the sun.
Aquaview is located near the existing Avalon community. Just down the road, homeowners can also make the most of Avalon Encore's community parks, pathways, schools, and the community pond.
Home in Avalon Aquaview means that Orléans' amenities are just as close as its beautiful green spaces.
Across from the community, and along Tenth Line Road, the Shops of Tenth Line offer plenty of everyday necessities like Sobeys, coffee shops, and services like banks and gas stations.
To the north of Avalon Aquaview, the options multiply as Tenth Line Road meets Innes Road. Here Rio Can Orléans, Trinity Crossing, and Avalon Centre offer countless necessities from grocery stores like Farm Boy and Real Canadian Superstore, to retail outlets like Homesense and JYSK, home improvement giant The Home Depot, and a generous handful of restaurants.
It's not just shops and green spaces that are in abundance around Avalon Aquaview. There are a number of great schools in the neighbourhood and there are plenty of resources available when it comes to choosing a local school for your child or setting up a transfer when your family moves to Avalon.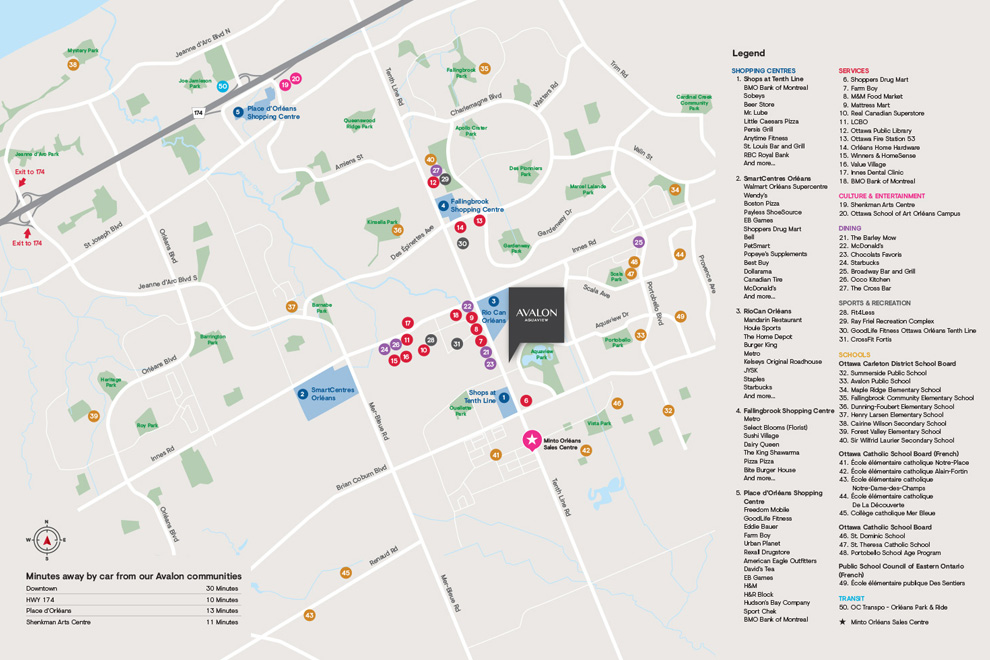 For a closer look at what's available in the Avalon neighbourhood, download our Amenities Map. Register today to receive updates and news. Sign Up Today
Register now for Avalon Aquaview Updates