25 Black-Owned Businesses You Can Support this Month in the GTA
August is Black Business Month, so we wanted to celebrate some of the amazing Black-owned businesses around the GTA. Discover and support a wide variety of Black-owned businesses both online or at brick-and-mortar locations across Toronto and the GTA. Here are 25 Black-Owned businesses to check out this month!
A Different Booklist
779 Bathurst St, Toronto
A Different Booklist is an independent, multicultural bookstore specializing in books from the African Caribbean Diaspora and the Global South. At A Different Booklist, you can find adults' books to children's books from First Canadians to African-Canadians and from the Caribbean to Asia.
Adrift
116 Spadina Ave G2, Toronto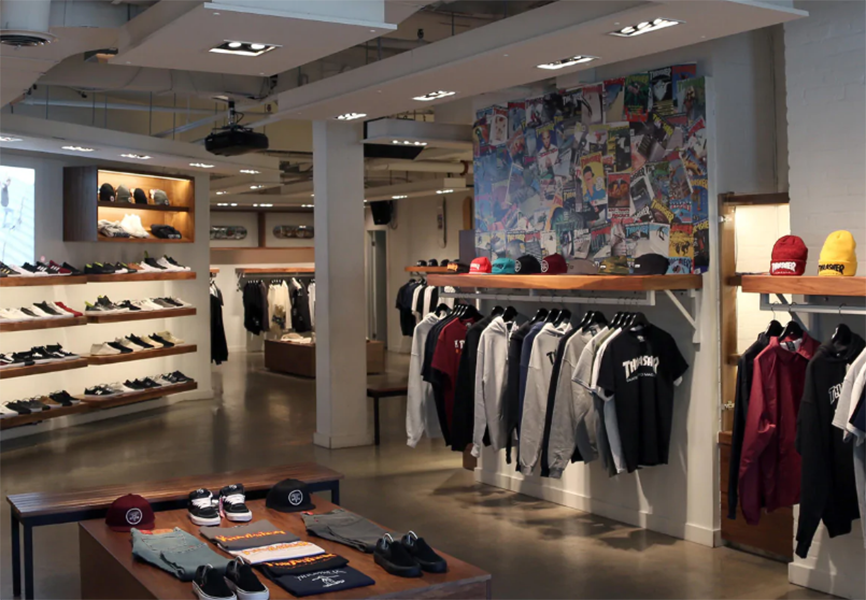 Adrift is a skate/lifestyle boutique carrying a diverse selection of urban lifestyle brands. At this skate shop, you'll be able to find footwear, clothing, and accessories.
Allwyn's
Multiple Locations
Using only the finest and fresh ingredients, this Jamaican restaurant serves legendary jerk sandwiches and other Jamaican specialties, such as patties and oxtail.
Beach Hill Smokehouse
Multiple Locations
If you love authentic Texas BBQ, you'll love Beach Hill Smokehouse. Beach Hill Smokehouse serves up Southern hospitality and smoked meats at locations around the GTA.
Bellurelle
Online Retailer
Based in Toronto, Bellurelle is a 100% natural, organic, and cruelty-free skincare line. At Bellurelle, you can find a variety of products for skin and hair. You also have the option to build your own bundle.
Blooming Flower Bar
194a Carlton St, Toronto
Blooming Flower Bar is known as Cabbagetown's neighbourhood flower shop. Blooming Flower Bar offers a wide assortment of fresh cut flowers sold by the stem, as well as a unique selection of plant pots, plants, flower-themed gift items, and more. You can either pick flowers from their DIY flower bar or have staff put together a custom bouquet for you.
Cherry Gardens
Online Retailer
Cherry Gardens' elevated athleisure and loungewear is sustainably designed and made in Canada. Owned and operated by a woman of colour, Cherry Gardens collaborates with local suppliers, makers, creatives, and entrepreneurs to promote community, diversity, and representation. Cherry Gardens' products are ethically produced and made in small batches.
Cup of Té
Online Retailer
This Toronto-based online retailer made Oprah's Favourite Things List in 2020. Cup of Té carries luxe loose leaf organic teas, teawaree, and tea gift sets. Their tea is curated around the globe.
CurlShoppe
380 Alliance Ave, York
CurlShoppe is a BIWOC owned curly hair brand based out of Toronto. CurlShoppe provides quality, affordable curly hair products and educates others on how to take care of their curly hair. CurlShoppe's products are manufactured in Canada and most of their supplies are bought in Canada.
Fresh Paint Studio
1849 Danforth Ave, Toronto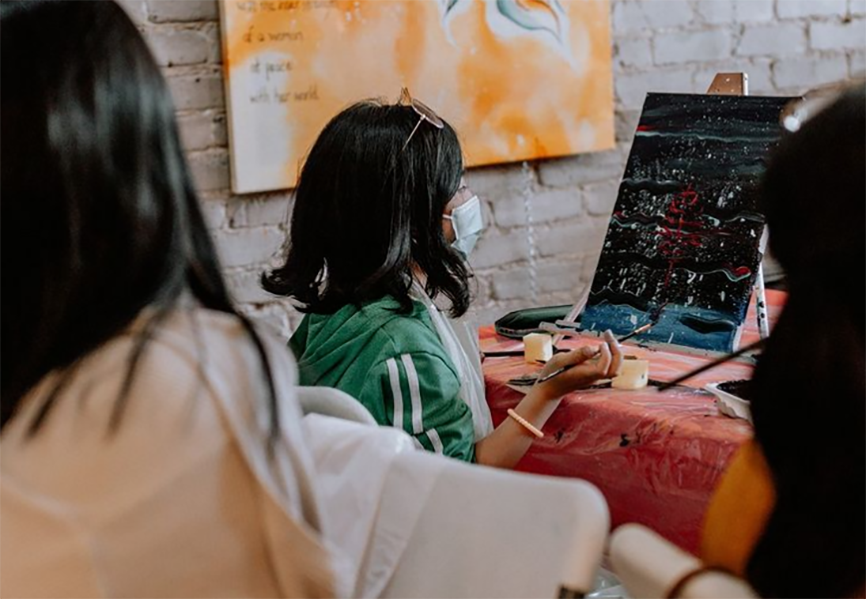 Fresh Paint Studio is a Toronto art studio and cafe that hosts painting parties. Great for birthdays or team building parties, you can enjoy a beverage or pastry and tap into your creative side. You can also shop art prints, greeting cards, and wearable art from their retail store.
Get Fresh Company
498 Queen St W, Toronto
Get Fresh Company is a Toronto streetwear brand known for carrying affordable luxury apparel. Visit Get Fresh Company to shop their in-house label, as well as other Canadian brands.
Jean-Marie Candle Co
Online Retailer
Photo: https://www.instagram.com/p/CbS4xsbl66z/
Jean-Marie Candle Co makes non-toxic, soy candles and wellness products. Jean-Marie Candle Co's products come in reusable and environmentally safe packaging.
Kemsi Skincare Essentials
Online Retailer
Kemsi Skincare Essentials is a Black-owned Canadian-made skincare brand. Their all-natural, affordable skincare line only uses ingredients that are locally and ethically sourced. Kemsi Skincare Essentials partners with local skincare professionals, farmers, trade shows, vendors and farmers markets in the Greater Toronto Area and surrounding areas.
Kids Swag
Online Retailer
With the goal of promoting mindful representation for kids, Kids Swag partners with Black-owned brands from around the world to offer a one stop shop of premium accessories and toys. The children's products at Kids Swag are inspired by Black girls and boys from around the world. At Kids Swag, you'll find a variety of items, including dolls, apparel, puzzles, notebooks, and kitchenware.
King Rustic Kitchen & Bar
905 King St W, Toronto
King Rustic Kitchen & Bar serves up artisanal eats and craft cocktails. Their curated menu of handpicked recipes passed down from generations features homemade comfort food made with quality ingredients. At King Rustic, you can enjoy beers from local Ontario vendors and special house-infused vodka, tequila, whisky, gin, bourbon from their resident mixologist.
Major's Cookies
100 City Centre Drive, Mississauga
Major's Cookies is a vegan bake shop located in Square One Mall selling dairy-free, egg-free, and soy-free treats. To support frontline workers, Major's Cookies donated 15% of their December 2020 and January 2021 profits to SickKids Hospital.
Mary's Brigadeiro
1912 Danforth Ave, Toronto
Mary's Brigadeiro is a Black woman-led, Toronto-based chocolate crafting business. The owner grew up in Sao Paulo, Brazil and learned family recipes and techniques from her mother. Brigadeiros are a traditional Brazilian dessert made with sweetened condensed milk, good quality real butter, pure Cocoa Powder, and fine chocolate up to 50% cacao. The treats at Mary's Brigadeiro are made with small batch, handcrafted, local ingredients.
Mofer Coffee
Multiple Locations
Mofer Coffee is a coffee shop serving fresh roasted Ethiopian coffee. You can find Mofer Coffee on Danforth, Queen, St. Clair, and Wellington.
Omi Woods
Online Retailer
Omi Woods sells contemporary jewelry and heirlooms that are ethically and individually handcrafted with fair trade African gold and globally sourced. The jewelry at Omi Woods is made with recycled and conflict-free fine metals.
Paba Cosmetics
190 Queens Plate Dr Unit B-5b, Etobicoke
Paba Cosmetics is a 100% cruelty-free makeup line created for women of diverse skin tones. Paba Cosmetics products are oil-free and hypoallergenic, making them suitable for various skin conditions, such as hyperpigmentation, acne, eczema, and skin sensitivity. Paba opened their first Canadian storefront in 2016.
Poetry Jazz Cafe
1078 Queen St W, Toronto
Watch live jazz musicians from all around the world at this iconic live music venue. Poetry Jazz Cafe features a variety of styles, including jazz, blues, rock, and poetry.
Rahyma
Online Retailer
Owned by Rahyma Awanife, a Nigerian-born designer based in Canada, Rahyma is a luxury African inspired clothing line. Rahyma makes women's clothing with handmade African prints. You can shop Rahyma both online and at pop-up shops in the GTA.
The Dirty Bird Chicken and Waffles
79 Kensington Ave, Toronto
For chicken and waffles with a Canadian twist, The Dirty Bird Chicken and Waffles is the place to go. All of The Dirty Bird's chicken is Halal and breaded in their gluten-free signature flour blend.
The Green Jar
1061 St Clair Ave W, Toronto
The Green Jar is a package-free refillery selling products to help you reduce waste and establish sustainable habits. Bring your own jars and fill up on things like laundry soap and shampoo or shop different eco-living essentials, from personal care products to household products.
The Loveless Cafe & Bar
1430 Dundas St W, Toronto
Head to The Loveless Cafe & Bar for coffee, tea, craft beers, and cocktails in a relaxed environment. The Lovleless Cafe & Bar also serves tasty eats, like Jamaican beef patties and vegan muffins.