Minto designs and builds homes to deliver environmental and energy performance to benefit people now and in the future with lower utility costs, improved comfort and healthier living.
Minto is committed to building and certifying its new residential developments to meet third party performance
standards such as the ENERGY STAR® for New Homes qualification. In pursuing third party certification,
independent industry professionals verify that Minto's homes meet advanced industry standards with a particular
focus on energy conservation. Initiatives like reducing the construction waste that goes to landfill sites and use of
friendly green features at Minto Oakvillage including: HRV (Heat Recovery Ventilation) systems, low VOC paints
and finishes for improved air quality and a healthier home, water efficient fixtures for reduced water consumption
and airtight construction with an extra layer of external insulation for reduced energy consumption.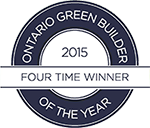 Enerquality's Green Builder of the Year in 2011, 2012
& 2014 and Bild Green Builder of the Year in 2013
Over 3000

ENERGY STAR®

for new homes built
The largest

LEED® Gold

condominium in North America 2009
Enerquality's

ENERGY STAR®

FOR NEW HOMES BUILDER OF THE YEAR (LARGE VOLUME) 2014
ONTARIO home builders' association (OHBA)

GREEN BUILDER OF THE YEAR

in 2008, 2010, 2011 and 2015
Radiance at Minto Gardens first multi-residential building in Canada to achieve

LEED® SILVER

2006
Minto 180 Kent St. Ottawa only building in Ottawa to receive

BOMA's

Highest environmental rating