Over 300 km of pristine trails, forests and meadows surround Oakvillage, offering you a lifetime of recreational adventures.
Oakville's extensive trail system actually comes into Oakvillage with a 1.5 km stretch that runs through the community. Get on to the nearby Sixteen Mile Creek Trail, a rustic and popular hiking trail that winds its way to Lake Ontario. Enhanced with a woodlot at each end and a pond in between, Oakvillage is a visionary master planned community inspired by nature's bounty.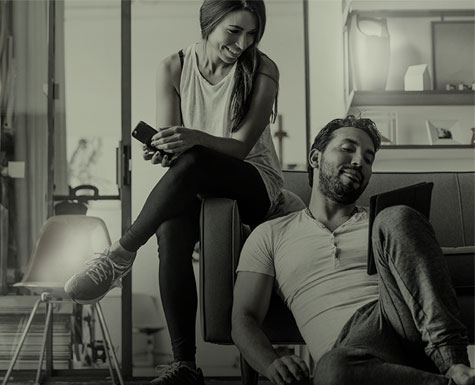 Nested amidst a scenic woodlot and a pond, Oakvillage is designed with nature and walkability in mind.
Welcome to safe, pedestrian-only streets where you can connect with neighbours and friends. Walk to the nearby planned retail complex for your everyday shopping needs. Enjoy coffee and conversation at one of the cafes and restaurants lining the main street. This is elegant living at its best.
Come out and play in Oakvillage
A putt above the rest

Oakvillage is located in the heart of extensive greenspace, ideal for sport and leisure pursuits. Connecting to over 3,500 acres of parkland, 200 parks and 300 km of trails, Oakvillage is a place where you can "paint the town green". The 1,690-acre Bronte Creek Provincial Park includes over 10 km of multipurpose trails, a 1.6-acre pool and an Olympic sized skating rink.

Just add water

Given the proximity to Lake Ontario, boating, yachting and sailing are popular summer pastimes that Oakvillage residents will enjoy. The area has numerous sailing clubs and marinas; among them, the historic Oakville Yacht Squadron. In addition, the Bronte Harbour Yacht Club is located at the mouth of Bronte Creek, just a short drive from Oakvillage. The Club operates one of the largest volunteer Learn to Sail programs in the province.

Ball is in your court

For those who'd rather volley balls than tack sails, The Oakville Club has long been a centre for racquet sports in the city. Just a short 15-minute drive from Oakvillage, the club offers tennis, squash and badminton, as well as extensive acquatics and sailing programs. Still, sailing and tennis are just the tip of the iceberg: name a sport and you can likely find an organization promoting it near Oakvillage. And any of them — running, hiking, jogging and biking — are right at your doorstep.
Steps to everything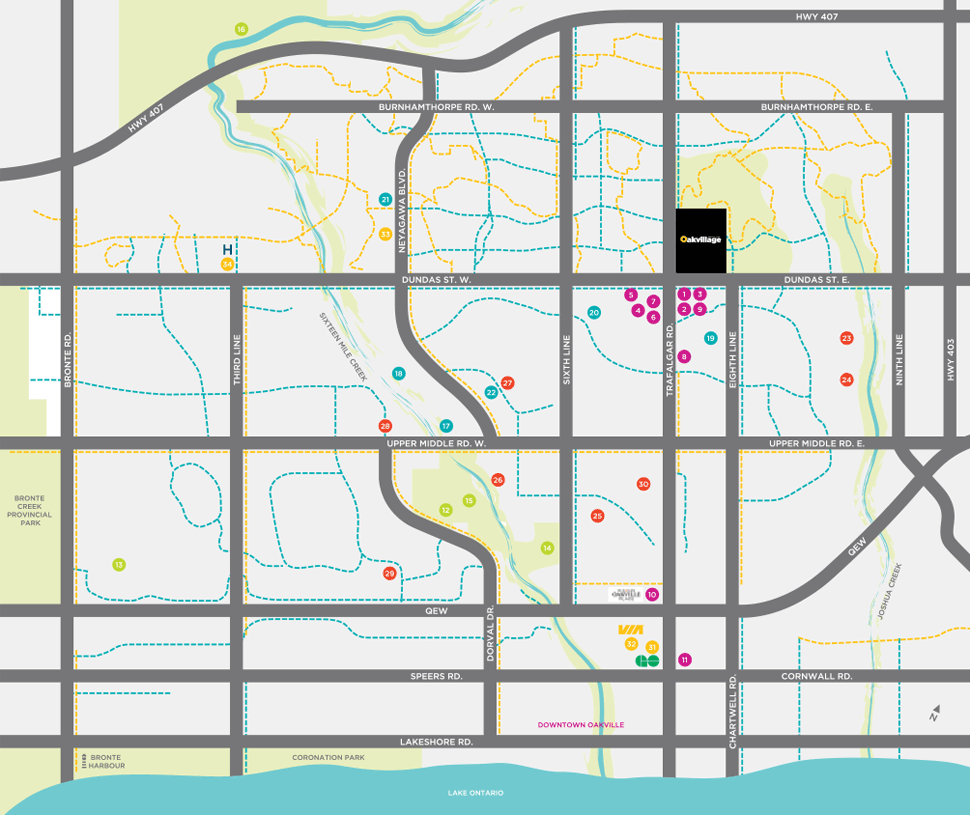 Restaurants/Retail

Longo's
Starbucks
Canadian Tire
Walmart
Real Canadian Superstore
The Keg Steakhouse + Bar
Kesley's
Spoon & Fork
Fionn MacCool's
Oakville Place
Whole Foods

Golf courses

Glen Abbey Golf Club
Deerfield Golf Club
Oakville Golf Club
Canadian Golf Hall of Fame & Museum
RattleSnake Point Golf Club

Parks/Nature

Sixteen Mile Creek
Lion's Valley Park
Postridge Park
Oak Park
North Park
Oakridge Park

Schools

Joshua Creek Public School
St. Marguerite d'Youville Catholic Elementary School
White Oaks Secondary School
Sunningdale Public School
River Oaks Public School
Glen Abbey Montessori School
St. Matthew Catholic Elementary School
Sheridan College-Trafalgar

Miscellaneous

Oakville GO Station
Via Rail Oakville
Sixteen Mile Sports Complex
New Oakville Hospital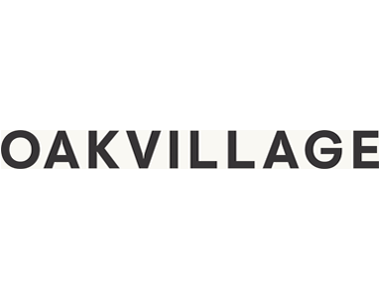 CONTACT US
Oakvillage Sales Centre
351 Dundas St. E
Oakville, Ontario, L6H 7E3
Hours of Operation
Sales Centre is Closed
Contact Oakvillage
Phone: 289-295-3239