Pet Friendly Apartments
Niagara West is a home for you and your pet. We know how important your pet is to you, that's why we incorporated pet friendly features.
Stop by the off-leash dog run on the rooftop and get some fresh air without having to leave the comfort of your home. For leisurely days with your pet, head to the dog park right across the street.
Niagara West features + amenities
Beyond the city outside your door, Niagara West living means enjoying incredible lifestyle amenities without ever leaving home. From the ground floor to the top floor, every inch is the perfect combination of everyday and exclusive.
The ultimate rooftop playground
Sunny summer afternoons lying poolside or doing laps. Long dinners with friends against the twinkly city lights. Games of fetch that go on and on (and on). And strolling through an urban garden without leaving your building. From the water to the greenery, the dog run to the firepits, you'll easily forget you're 180 feet in the sky.
Catering to the way you live
Right onsite you'll find a grocery store to pick up necessities and indulgences on your way home from your day. Stop by your place for a quick change before heading to the full-service fitness centre. And after your workout, grab a sauna or head to the steam room for total relaxation before meeting friends for dinner and drinks. It's all here, it's all close by and it's all about the way you live.
Live, work and play your way
A 24-hour concierge means there's always someone at your service. The fully equipped games and media room means hanging out is ideal even when the weather isn't. And all of the amenities and conveniences that come with living at Niagara West means you never have to stray far from home.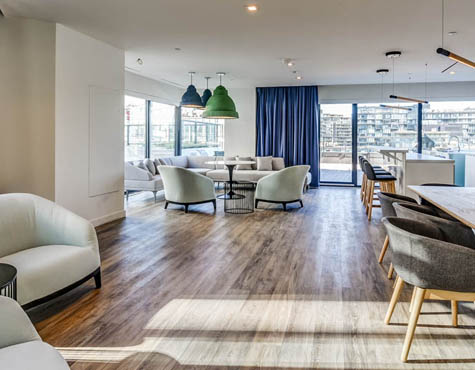 CONTACT US
Niagara West Rental Office
Address
39 Niagara Street,
Toronto, ON, M5V 1C2
Hours of Operation
Monday – 9:00am – 5:00pm
Tuesday – 10:00am – 7:00pm
Wednesday – 10:00am – 7:00pm
Thursday – 10:00am – 7:00pm
Friday – 10:00am – 6:00pm
Saturday – 10:00am – 4:00pm
Contact Niagara West