Contact Us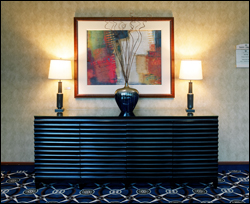 SPECIAL NOTICE - EMAIL OUTAGE - Saturday June 22nd 2013
In order to carry out routine maintenance, on Saturday June 22nd 2013, our email service will not be available between 6pm and 1am. Please note that any emails received during this period will be responded to after 1am.
Should you require urgent assistance then please call 613-232-2200.
Thank you for your interest in Minto Suite Hotel in Ottawa. We are pleased to offer you assistance and information that will help to make your experience as positive as it can be. Tell us how we are doing by filling out our guest comment card.
Hotel Address:
185 Lyon Street North
Ottawa, Ontario
K1R 7Y4
Canada
613.232.2200
Click here for the downtown location map
Email Address:
info@mintosuitehotel.com
Reservations:
Ottawa Direct Line 613.782.2350
Toll Free for Canada & USA 1.800.267.3377
Fax 613.232.6962
Online Reservations
General Manager:
David Zaltzman 613.782.2427 dzaltzman@minto.com
Director of Sales:
Teresa Riopelle 613.782.3156 triopelle@minto.com

Sales Manager, Long Stay:
Amy Rattray 613.782.3088 arattray@minto.com

Sales Manager, Long Stay:
Anna Pantalone 613.782.2887 apantalone@minto.com

Sales Manager, Groups:
Lydia Blanchard 613.690.5130 lblanchard@minto.com

Catering Manager, Meetings & Social Events :
Hab Jabbour 613.782.3120 hjabbour@minto.com