Gallery Suites
This four-floor building features five different floor plans that range in size from 641 to 1763 square feet. A unique design technique allows nearly every suite to be a corner unit thereby increasing exposure to sunlight and nearby natural surroundings.
First level suites feature private entrances through archway terraces that were influenced by modern architecture. A communal elevator and shared, contemporary corridors provide access to upper suites that offer premium views of the newest centre of your life.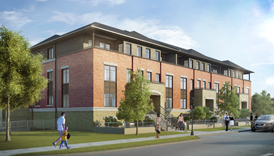 Dual Terrace homes
This four-floor building features four unique floor plans. Each unit has been
designed to be exterior facing giving you the opportunity to make the most
of the natural environment that is just steps from your front door.

Suites feature modern, open design concepts that make the most of their
space while the multi-floor layout will give you unique design opportunities.
As Ampersand is the perfect blend of the urban and suburban, each unit
includes a parking space and easy access to rapid transit systems.