"It's properly managed, we have great building managers and they
keep the place very clean and up-to-date.
If anything goes wrong, they're right on it.
It's stress-free living."
- Cherryhill Resident


"It's a community that has access. The bus routes are out front,
there's a community bus that comes through all of the apartments.
I don't think there's a problem getting anywhere.
There are services here.
There's a doctor, a pharmacy, the grocery store,
plus all of the other stores that are in between.
I think people feel they have everything."
- CH Weekend Duty Manager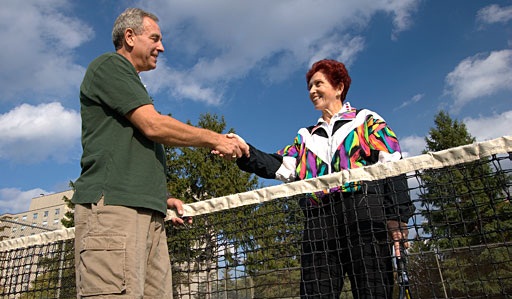 "I think they know it's a community that cares."
"You can't get lost because somebody is always there to help you.
It is a wonderful place.
I enjoy it and as long as I'm living, I'll still live here."
- Cherryhill Resident
(About the people, bus drivers, helpfulness…)
"You'd never find a better place with the friendliness and there's everything available."
- 92-year old CH resident who has
been at Cherryhill for 26 years
"The fact that it's a community is what I like.
I like the people.
I have my friends here, I have my bank, my drug store, the Metro store...
I think they (Minto) are taking good care of the people who live here."
- Resident with CH for the past 8 years
About the CherryHill mall…
"It's so easy to get here on the community bus.
Even the staff who clean the tables have been here forever and
everybody knows them…
It seems to be geares more to seniors, but it doesn't matter because
anyone can go to this mall and have a fun time."
- CherryHill Village Mall Shopper for 20-years
"You'll never find any other mall like this in the city.
It's very family-oriented.
People are very comfortable coming here.
This is a place where they meet, they share their life experiences,
they hear what's new in the city."
- Cherryhill Mall Store Owner

In the words of London Mayor Joe Fontana…
"The Cherryhill community is probably
one of the best communities in the City of London…
…It's everything that you could ever want.
It has an incredible reputation already not only in London, of course,
but outside of London."


Even Non-Residents love Cherryhill!
"I come here (to CH Village Mall) to see some friends.
I live around this area and I come every day.
You meet friendly people here and you sharpen your mind."
- CH Mall Shopper, close neighbour of Cherryhill

Another shopper said: "The community is very up-to-date and they have
all these facilities that are available to the people who are here.
I hear one of my friends talking about the exercise group and I think to myself:
'I would love that exercise group', only I don't live here."


Sarah Langford, co-ordinator of the Victoria Order of Nurses
Cherryhill HealthyAgeing Program said:
"It's a warm environment and it's a neighbourhood-type atmosphere…
…it has what people need.
When we've had snowstorms, we've had people who feel thankful
that they don't have to go anywhere else – they can walk over to the mall
and have everything they need.
If someone were coming from outside the area, I would say,
'You'll be comfortable here.
You'll be well taken care of.
Here you'll get people really caring about you.' "
"Cherryhill is a community where everyone knows everyone.
If the new owners are as good as the last owners, it's the place to be, for sure."
Wow – what a treat it has been to read what people had to say about Cherryhill! These comments are so inspiring!
We are so happy to be part of the warm, friendly community of Cherryhill. We are always looking for ways to maintain Cherryhill's great status in London as one of the Best places to Live!
If you have any suggestions to improve our community's services or amenities, or would like to share with us your comments, please contact our Customer Care Co-ordinator Kari Smith at 519-433-7291 or ksmith@minto.com