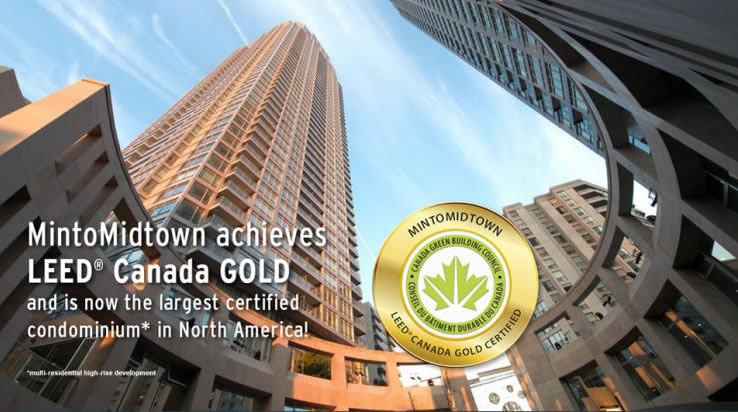 Building Systems, Sustainability and Healthier Living
Smarter design, healthier living. That benefits both residents and the environment. Building to green building standards for high-performance and sustainability. Buildings that are more energy efficient. That are more environmentally friendly. That generate lower greenhouse emissions. Bringing fresh air into your suite. Empowering residents with tools to reduce costs. While contributing to a healthier planet.
June 2009. Canadian Green Building Council confirms the LEED® rating for MintoMidtown
Minto is the first builder in Toronto with LEED® Canada certified high-rise multi-residential buildings:
GOLD certified MintoRoehampton and SILVER certified [email protected]
Building Systems, Sustainability and Healthier Living
Sustainable Site
Urban Redevelopment: Urban redevelopment taking advantage of existing infrastructure.
Alternative Transportation: 20 meters from the subway, covered storage for 200 bicycles and walking distance to shopping and amenities. On-site car share program utilizing hybrid technology.
Rainwater Collection: harvesting system meets the buildings irrigation needs naturally with rainwater instead of with drinking water.
Heat Island Effect: Reduce thermal gradient differences between developed and undeveloped areas by locating 100% of parking underground.
Energy and Atmosphere
Significant Energy Savings: Designed to be at least 25% more energy efficient compared to the standards of the Model National Energy Code for Buildings as required by CBIP (Commercial Building Incentive Program).
Measurement and Verification: Sophisticated building automation system will continually monitor building mechanical systems and utility bill analysis ensuring ongoing accountability and optimization.
Stairwell Lighting Control: Motion sensor stairwell lighting control features overlapping sensor coverage to ensure safety while controlling energy consumption. In the case of stairwells, which are typically empty, this system reduces consumption from 8,760 hours per year to less than 200 hours per year.
Green Energy: Minto has committed to green power equal to 50% of the condominiums electricity needs over two years. Reducing Greenhouse Gases by approx. 1,500 tones and promoting environmental responsibility.

Occupant Empowerment
Energy: Simple and convenient 'all-off' in-suite lighting control. One flick of a switch turns off all fixed lighting, exhaust fans and sets back thermostat.
Water Conservation: Each suite will be individually metered for hot and cold-water use, putting water management in the hands of the user. Past developments have demonstrated this initiative reduces water consumption by over 50% in comparison to a typical condominium building, and results in significant annual savings to condominium owners.
Collection of Recyclables: Minto is continually looking for ways to encourage residents to recycle. MintoMidtown will be equippedwith a 2-chute garbage disposal system that allows for easy recycling on every floor.
Dual Flush Toilets: Reduce water consumption by an additional 32%.
Materials and Resources
Regionally Produced and Recyclable Materials: MintoMidtown will target materials being regionally manufactured.
Low Emitting Materials: Environmentally friendly underlays, hardwood and ceramic flooring and low toxicity paints significantly reduced volatile organic compounds.
Construction Waste Management: waste management and recycling program during construction.
Green Choices: customizable green options for owners at finishes selection.
Indoor Environmental Quality
System Controllability: Each suite features a fully user adjustable temperature and airflow control.
Daylight and Views: Generous use of low-e thermal glass with operable windows maximizes natural illumination and ventilation while taking advantage of the magnificent outward views.
Healthy Living: MintoInspired HRV fan coil installed in every suite to recover exhaust heat and directly deliver fresh filtered air. The design uniquely allows the fresh air to be circulated throughout the suite, reducing dust and particulates.