Our Story
The Minto Story
Minto's legacy of exceptional quality and craftsmanship is recognized industry-wide; however, we're most proud when we share the keys to wonderful memories at every stage of life.
Whether it's the excitement of a first apartment, the possibilities of a second home to grow into, temporary housing while you're in transition or the accomplishment of an empty nest, Minto is there every step of the way.
With operations in Ottawa, Toronto, Calgary, London and Florida - and plans to expand even further - our focus on what matters is apparent in every one of our apartments, furnished suites, homes, condominiums and commercial spaces. We've changed a great deal since our early days, but one thing that remains the same is our commitment to creating better places.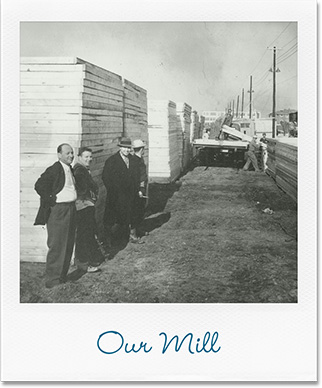 From a vacant barn to a larger mill on Merivale Road
in Ottawa, we made our own products to ensure
our high standards for quality were met.
60 years of doing what's right


When four brothers, Gilbert, Irving, Lorry and Louis Greenberg established Minto 60 years ago, they made the decision to do what's right - always. Today, we're proud to say that day in and day out, we continue to provide outstanding service to our homeowners, residents and tenants while making meaningful contributions to our communities, our planet and everyone at Minto.